Rotate
We now offer the ability to rotate objects, like text boxes, images, shapes and lines.
When you click on an object that can be rotated you'll notice a small rotate icon at the bottom of it.
Click and drag to rotate the object at any angle. Hold SHIFT and it'll snap to 45 and 90 degree angles.
This can be useful if you want to have vertical lines in your design.
Templates
We've long envisioned that someday Proposify could help businesses other than just design and marketing agencies streamline their sales process. Well that day is finally here! We just launched two new templates, this time for event managers and caterers. Watch for other industry templates to come!
View the full event management proposal template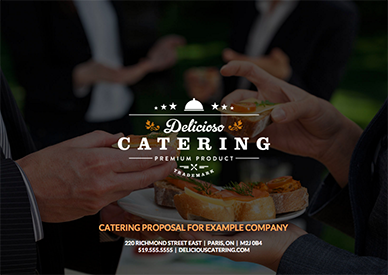 View the full catering proposal template
Let us know what other templates you would like to see in Proposify. Take the one-question survey.
Import Fees
If you store your fees on a spreadsheet and don't feel like copying and pasting them one at a time in your content library, you're in luck! You can now upload a CSV of your fees.
Visit your content library and click the "Import fees" button. You can download a sample CSV to see how it should be formatted.

Once your file is uploaded you'll need to choose which column in your spreadsheet matches the field in Proposify.
Voila! Your fees are uploaded.
We plan to also add the ability to import contacts via CSV in the future.
Free download
We want to always be providing value to our customers and readers. A few months ago we started looking at all the aggregate metrics within Proposify, like the average number of sections, and how long the average proposal takes to get accepted.
As of today, we are publishing these findings in our super sharp and super smart "Guide To The Perfect Proposal". Download it here for free and please share the link with your contacts.
What's next
We're working to get a number of other updates made by the end of the year.
Making improvements to signatures, which is almost ready to go. We'll allow for multiple signers and let clients type their signature instead of using the drawing pad (if they prefer).
Allow adding, editing, and removing table columns in content tables.
Allow you to choose price and date formatting, which is helpful for people outside of Canada and the US.
We've outgrown Rackspace (outside of scheduled maintenance, all but one of our downtimes happened due to Rackspace and not us). So we're preparing to move Proposify to a new server. Among other benefits, the new server is going to be load balanced, which means if it's under heavy load it automatically adjusts to "borrow" memory and space from another server. We anticipate this is going to mean some downtime on the weekend as we make the move, but we'll send all customers a separate email about when to expect that so you have lots of time to prepare.
Don't be shy in telling what integrations and features you'd like to see in Proposify (Click those links to take the surveys).
Thank you for your continued support, we wouldn't be here without our customers. :)