< Back
How To Conduct Yourself At Advertising Award Shows
Ahhhh, awards shows. The red carpet, the beautiful people in Spanx, the stalker fans, Ryan Seacrest. But I'm not here to talk about that kind of awards show; I'm here to talk about design/advertising awards. Not quite the same thing as the Oscars but just as self-congratulatory and everyone is just as hungry.
If you've never been to an industry awards show, there are really just two important rules to follow: what to wear and how to behave. I've compiled a two-part, easy to follow guide that will guarantee your success at the next award show, regardless of whether or not you bring home any hardware for that brilliant men's deodorant soap campaign set to an 80's one-hit-wonder.
What to Wear
Important, very important. There are strictly three types of wardrobes allowed at award shows and which costume you wear depends on your place in an agency. It's very class-based so you must pay close attention or no one will know if you're worthy enough to talk to.
Male CEOs/account directors/ business development dudes
Black blazer with collared shirt, no tie. You can get away with a t-shirt if you were formerly a creative and you've recently climbed the corporate ladder but want to hang on to your purported cool roots.
Jeans. Expensive jeans with confident stitching.
Shiny leather shoes. Shoes like someone pretending to be a rich European asshole would wear.
Hair: If you still have it, slightly spikey and coiffed with product. Or shave your head smooth.
Optional accessory: glasses. If you need glasses you must wear funky frames that make it look like you and Mr. Potato Head share the same optician.
Male Creative directors/art directors
Everything must look like you just rolled out of bed on Saturday morning with a mild hangover after seeing the best band no one has ever heard of, and you're hunting for the perfect cup of fair trade French Press but haven't quite found it. The expression on your face should reflect that you are irritated by having to settle for drip.
Jeans should be rumpled; rips are optional but probably a bit too much 'try'.
T-shirt: 2 choices: ironic saying/brand or a tour t-shirt from the best band no one has ever heard of. Rumpled.
Hair: messy, unwashed and run your hands through it often.
Shoes: expensive sneakers. Colourful.
Optional accessory: hat, flat rim.
DO NOT SHAVE.
Female CEOs/creative directors/art directors
Don't exist.
All females - Account directors, copywriters, social media planners and all other female roles
There are precisely two ways you can go with your look. Either Zooey Deschanel or Olivia Pope. Ideally, you're some combination of the two, depending on who you're talking to at the after-party.
Dress it up and fill it out. Break out your hot rollers.
Shoes: Heels, killer heels, the kind you can spear snakes with even if you can't walk in them or know how to spear snakes.
Hair: A blow out that would make Kate Middleton weep.
How to Behave
Almost as important as what you wear is how you behave at these award shows.
Male CEOs/account directors/ business development dudes
Act like you're happy, really, really happy. Slap people on the back as you shake their hand. Laugh big like you've got a cigar in your mouth and you're going to shut down the factory and make a ton of money. Act like your competitors are your best friends. Act happy to see that creative director who jumped ship and went to work for the other guys with the coveted national brands. Make note of the new crop of young, female account directors, hungry for networking and a Cosmo.
Male Creative directors/art directors
Act like you don't care. At all. Especially if you win an award. Shuffle to the podium, mumble something, shrug, make obscure references to inside jokes with your homies, run your hand through your hair, shrug your shoulders, rub your stubble, shuffle off the stage. Inside you know you are a genius and that you were right about that drop shadow all along. Receive giant back slap from CEO. Make note of the new crop of young, female account directors who pretend to like craft beer and can't wait to hear about the best band no one ever heard of.
Female CEOs/creative directors/art directors
Don't exist.
All females - account directors, media planners and all other female roles
Yahhhooooo! You are excited, Zooey! This is a party, Olivia! You hoot and holler support for all the men in the office who get all the credit for all the awards! You're charming! You're ambitious! You keep one eye open for a spot at the bar next to the CEO and laugh at all his jokes. Drink dirty martinis and scotch and smoke cigars even though you really want a glass of Pinot Grigio. Congratulate CD on his award (oh no, no, it's OUR award) and wonder exactly when they're going to bring out the baby burgers.
And don't forget the super cool montage of the year's best work, the one that tries to convince us that what we do is meaningful, that it's a higher calling, that we are creating ART. And not that we just sat in a room for 4 hours celebrating the fact that we use puns and pretty pictures to sell people stuff.
Struggling to write a proposal? Fast forward to send.
Our gallery of free proposal templates can kick-start your sales process.
View Templates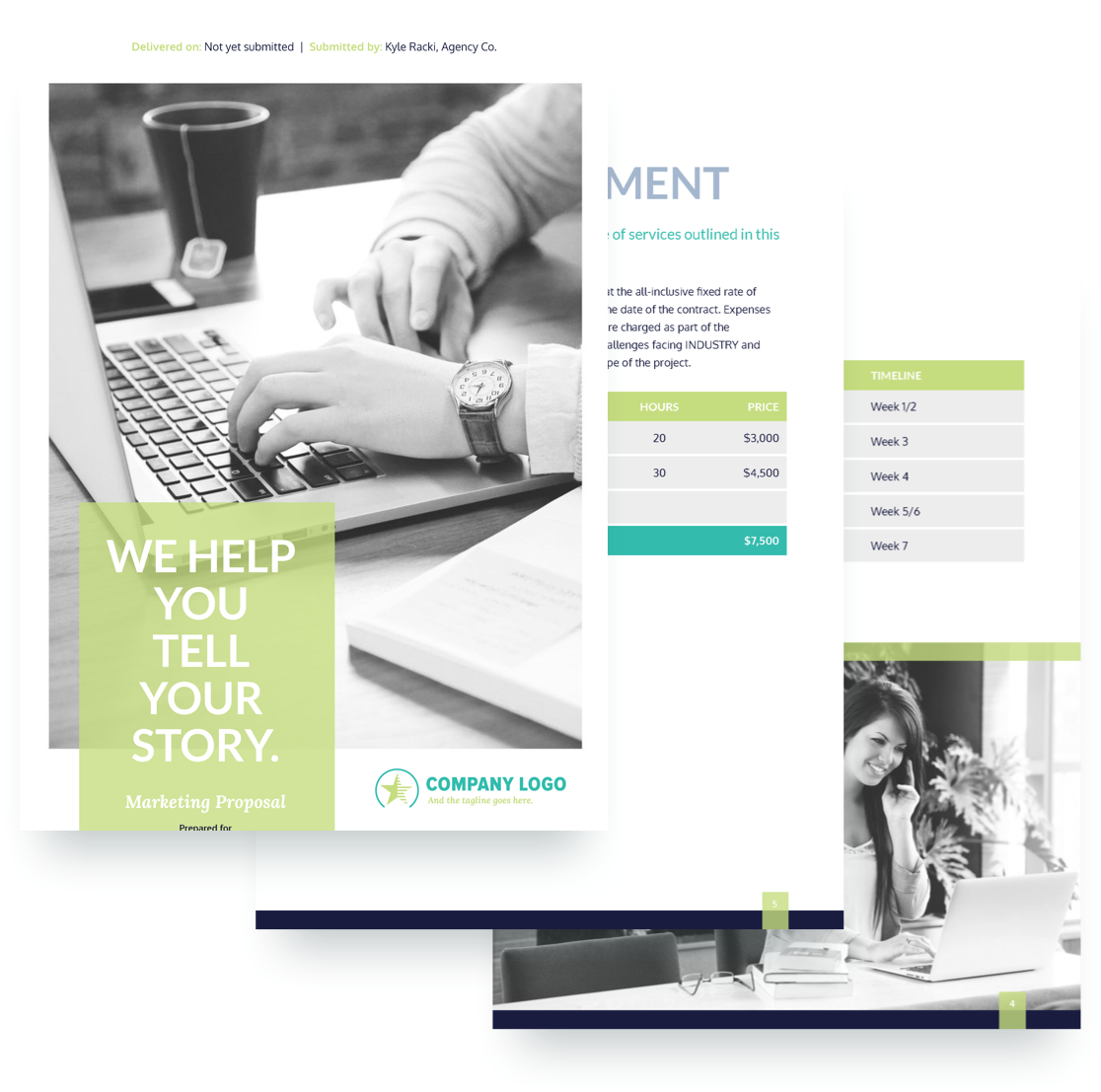 Your mission? Close the deal. Your secret weapon? Our proposal templates.
Our free, professionally written and designed proposal templates can help you win the battle for better business.
View Templates