< Back
We're Launching the Proposify Partner Program and We Want You to Apply!
Our new Proposify Partner Program is designed to help us better meet the special needs of our customers while also providing you with opportunities to grow your business. First, let me explain why we decided to have a partner program, why you should get involved, and then how to sign up.
Partnerships have been on my mind a lot lately.
I recently wrote a blog post about how SaaS companies and agencies make for great partners, which I won't rehash.
Shortly after I wrote that post, I connected with Mac King, who heads up the Shopify Plus Expert program. We invited him on our Agencies Drinking Beer podcast to chat, which you can check out here.
I've been seeing how companies like Hubspot, Shopify and InfusionSoft have benefitted from having a partner program, and how it improves the businesses of everyone involved: the SaaS companies, the partners, and most importantly, the customers.
A win-win scenario for everyone
We're fortunate to have a passionate customer base. We receive tweets and emails on a daily basis from customers telling us they love our product and how it's helped them in some way to close deals or improve their sales process.
Often these same people ask us if we offer a reseller account so they can make a commission from customers they introduce to Proposify.
For the longest time I hadn't been interested in that. We've been growing pretty quickly on our own without needing to pay resellers or add the work of managing a partner program to our already full plates.
But then we began to think about how it could improve our customers' lives and reconsidered the benefits of a partnership program.
What customers need
We've found that many of our customers, especially ones who aren't very tech or marketing savvy, need more assistance to maximize all the benefits of Proposify than our little 13-person team can provide:
They need help moving their existing proposals into Proposify. We already offer this as a paid service and are overwhelmed with the level of demand for it.
They need someone to help them write and/or design a custom-made proposal template. We don't offer this service at all.
They need someone to guide them and provide training or consulting on how to get the most out of the product. We can offer some larger customers a bit more training, but in general it overwhelms our support staff who need to balance one-on-one phone calls with helping out the rest of the customer base through email and live chat.
We will be launching a public API (more on that soon) and we anticipate companies will want help integrating their existing software with Proposify. We don't plan to ever build bespoke integrations for individual companies. Instead, we'll continue to build on our integrations with other popular SaaS products that our customers find useful.
So as you can see, the demand is there but the supply is not. And frankly, we aren't in the service business and don't want to be. We want to stick with what we do well.
That's where you come in.
A lot of our customers ARE in the service business and would welcome more client work coming their way.
If this is you, here's where our partner program could be of benefit. Being a partner will enable you to:
Earn recurring, passive income. 'Nuff said.
Provide more value to your clients by solving the pain of managing their own sales/proposal process.
Offer paid services on top of the product, like custom proposal design, proposal writing, API development, training, or consulting work.
Receive more leads to your door. We will promote our partners to new leads and existing customers. We average about 100 signups per day.
Sell proposal templates on a marketplace. This won't be available right away, but it's something we're interested in developing, where you can design a template once, and sell it multiple times.
In time, we also want to offer some cool bonuses to partners, like exclusive content, guest-content opportunities, and early-bird access to new features.
Sound interesting? Good! Let's move on:
How the partner program will work
I need to preface this: We are still in the early stages of this program. I'm not pretending to have this all figured out, and it's important to talk to the partners to get their feedback. If things need to change, they'll change.
Here are the basic steps of becoming a partner:
You will need to apply to become a partner and fill out a form. Apply here. We won't accept everyone as a partner automatically just because they apply. We're looking for quality over quantity. We know you respect that.
If accepted, we'll contact you, you'll need to sign off on our partnership agreement and pay an annual fee to move forward.
You'll need to complete a course to get certified. If anyone else on your team wants to get certified they'll need to take the course too. It's critical all of our partners fully understand how Proposify works and can teach it to their clients.
Does this sound like a big commitment? Maybe it is, and that's because we want committed partners. But we also want to reward those who invest their time and money by delivering leads to their site and helping grow their business.
Commission
The million-dollar question: What's the payout structure?
Our goal is not just to acquire new customers, but retain them. Selling a customer on a $100/mo plan only to have them cancel after 30 days isn't what we're going for.
So we want to reward our partners for bringing in quality customers that stick around and grow with the software over time with a 20% commission.
For example, if you bring in a new customer who pays $50/mo you'll receive a 20% commission on that. $10/mo isn't a lot of money. But bring in 10 customers paying the same amount and that becomes $100 in your pocket every month for the whole lifecycle of the customer, without you needing to do anything.
Of course we also sell larger plans too, and if the customer upgrades, you receive the commission on that.
Imagine after a year or two of bringing in dozens of customers who stick around and you could be generating thousands of US dollars per month in recurring, passive income. Not to mention earning additional revenue through other value-add services that you charge to the client directly.
Who should apply?
Ideally we're looking for freelancers, independent consultants, and small agencies as partners, especially ones with expertise in design, development, and writing, who can also train clients on how to use Proposify.
Next steps for us
We need to build the actual partner program into the product, which we're working on now.
It will let you invite customers to start a trial, and you'll be able to associate customer accounts you may have already brought in before the program.
We need to be able to track all of this properly, auto-calculate commissions, and make it easy for you to request permission to hop into the accounts of your clients.
We also need to build the public marketplace so we can start driving some leads your way.
We're going to officially launch the pilot partner program by September 1st (a week from this posting), but we won't have any of the in-app stuff built yet. It's going to just be an agreement between us, and we're going to manually verify customers you bring in.
We'll keep everyone updated as we continue to roll out the program and build in more automation.
For those who are accepted as a partner, I'll send out an email inviting you to a live webinar with me on September 1st so I can offer more detail on the program, show you some cool secret features our product team has cooking, and hear your questions and feedback.
Whaddaya say, partner? Click here to apply for the partnership program.
Hope to do business with you soon :)
Struggling to write a proposal? Fast forward to send.
Our gallery of free proposal templates can kick-start your sales process.
View Templates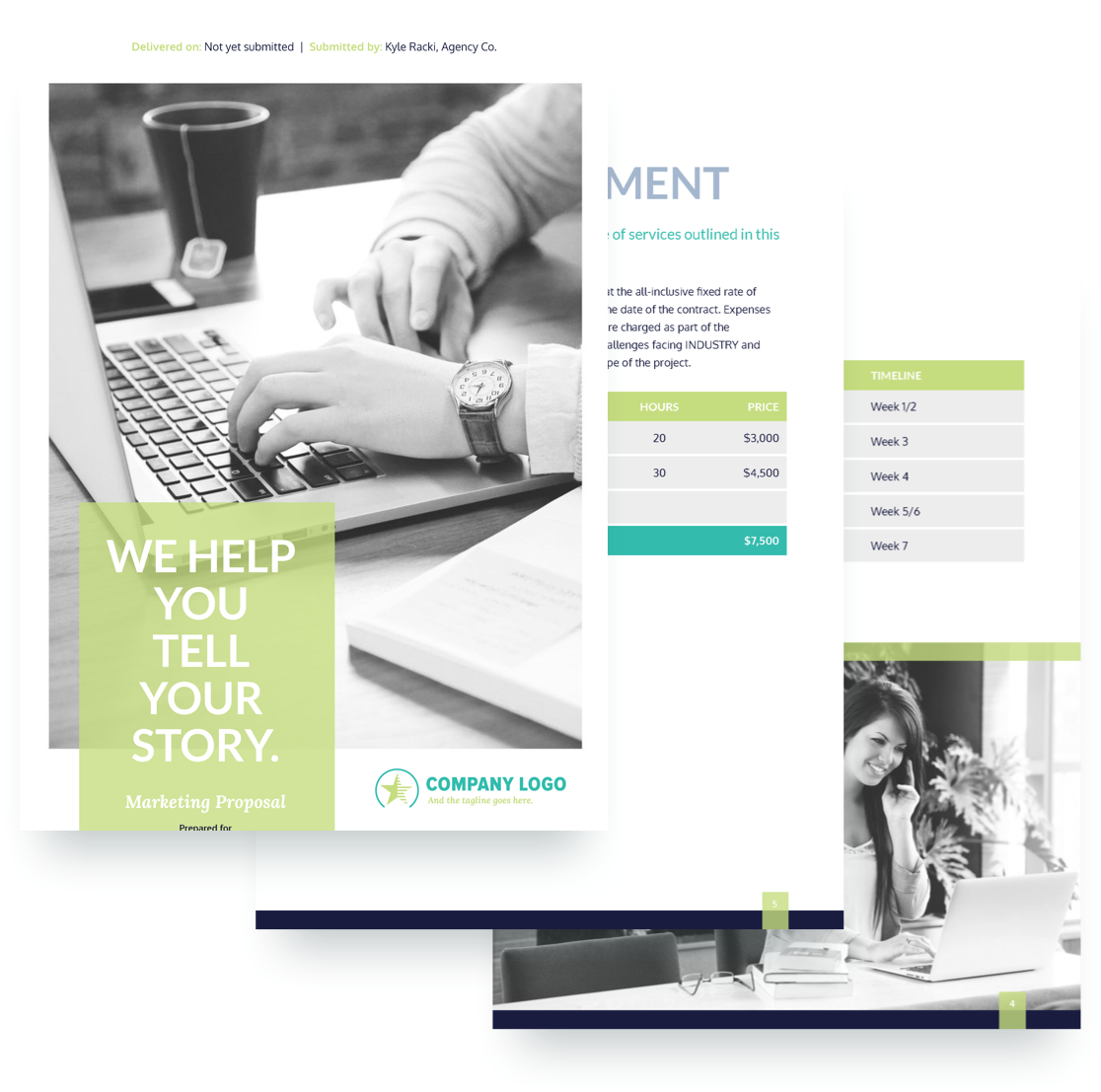 Your mission? Close the deal. Your secret weapon? Our proposal templates.
Our free, professionally written and designed proposal templates can help you win the battle for better business.
View Templates