A simpler way to deliver winning accounting proposals to your clients.
Proposify streamlines your sales process and helps you close deals faster.
Proposal templates built for high returns
Get proposals in prospects' hands faster than your competition by using one of our free, professionally designed proposal templates. Each template is 100% customizable for your company, industry, and individual clients.
Featured Template: Accounting
This free template is ideal for accounting firms and accountants quoting their services to new clients.
"I know our proposals are some of the nicest of any of our competitors that I've seen. Most businesses are doing what we used to do. They're sending a PDF or Word Doc. Proposify makes us look more professional."
– Melissa Versnik, VP, Business Development at The Payroll Company
Read the Full Story
Proposify keeps your accounting firm in the black
Your job is to crunch numbers and close accounts, not wrestle with fussy and time-consuming proposals. Proposify's online proposal software streamlines how you create, send, and close proposals, making the entire process less painful and more profitable.
Impress clients before you even sharpen a pencil
Smart businesses don't let just anyone into their books, so you need to look as professional as possible to gain their trust. Proposify has you covered. Create proposals so impressive they'll knock the socks off even the biggest clients.
Book a Demo
"You guys rock. Proposify has helped me close deals, and impress more large companies than ever before."
David Dominique, David A Dominique LLC
Scary simple sign-offs
Proposify's online signature tool makes it easier and faster for clients to green-light your proposal. We've added it up: our software means less back-and-forth and more accounts won.
Book a Demo
"We've definitely become more efficient in our implementation because we've been able to get our proposals and customer service agreements signed much quicker with Proposify."
Melissa Versnik, VP, Business Development at The Payroll Company
Spreadsheets are tedious, proposals shouldn't be
Your team can't afford to let a hot lead grow cold while it fights to finish their proposal. Our streamlined proposal process lets you get your quote in the prospect's hands before they freeze up.
Book a Demo
"We're using it every day. As much as we use Salesforce, our sales team is also using Proposify every day. I cannot imagine having to go back to creating quotes outside of Proposify."
Melissa Versnik, VP, Business Development at The Payroll Company
Collaborate better. Close more.
Creating a killer accounting proposal means bringing together your best collaborators. With features like our content library and roles and permissions, Proposify lets you build the perfect team to create air-tight proposals that win you more clients.
Book a Demo
"I love having Proposify as a centralized platform for our company to come together and track all of our deals."
Austin Schneider, Sport Dimensions
Your numbers never looked so good
Add some dazzle to your digits with Proposify's fully loaded editor. It's easy to use and lets you change fonts and colours, and add images, shapes, and video, making it delightfully simple to transform ho-hum proposals into drop-dead gorgeous deals.
Book a Demo
"The proposals are gorgeous, well-organized, easy to navigate, and have made the job of returning requests for proposals so much easier."
Lisa Lavelle, Catalina Tours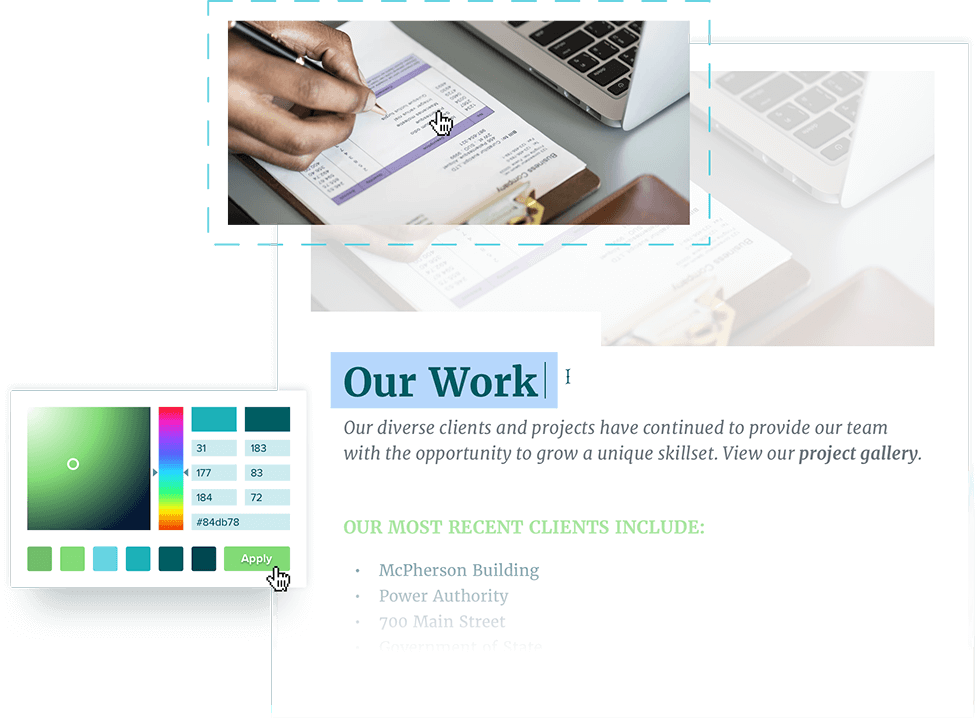 Build the perfect back-office portfolio
Whether you're in accounting, payroll, investments, or insurance, Proposify seamlessly integrates with your favourite business tools, like CRM and invoicing, helping your team sharpen its efficiency and close more deals.
Book a Demo
"Proposify integrates with invoicing application for a seamless back office suite. Great for sending very professional proposals to clients."
Susan Rits, Susan Rits Design, LLC
Get the tool that takes your proposals straight to the bank.
Try Proposify free for 14 days.
No credit card required.
Book a Demo