About Paradox
Paradox is the company behind Olivia, a conversational assistive intelligence (AI) platform who is there to be a mobile-first second set of hands and work alongside recruiting and talent acquisition professionals. Olivia offers many different skills, including job candidate screening, interview scheduling +reminding, and much, much more.
Tara Thornton, Proposal Manager at Paradox, was in a new role that had never existed before. Coming from the construction industry (where proposals are very complex), she was looking forward to updating Paradox's current proposal process and found plenty of opportunities to make AEs' lives easier.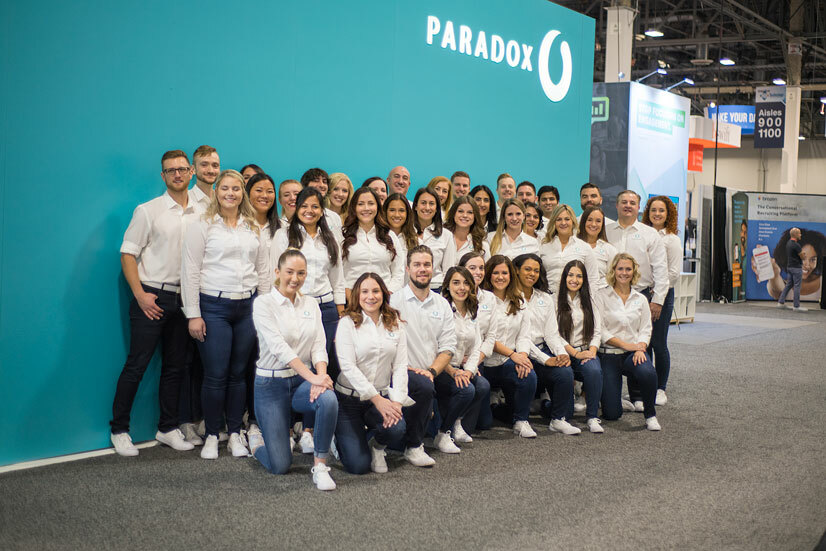 Nearly doubling the AE team meant finding a scalable solution
Soon after Tara joined, the company was on a growth trajectory. She was tasked with improving proposals and sales processes that met the needs of the growing sales team.
With more account executives, she knew that every problem they tackled needed to be met with a scalable solution.

"We've almost doubled our AEs this year. But everyone was putting proposals together in a way that worked for them individually. It wasn't scalable."
Wrangling proposals when everyone had their own style
Fast-growing startups are known for moving very quickly, not necessarily consistently. And this was exactly what was happening at Paradox.
Proposals were difficult to create and it wasn't easy to figure out how to make them look the same.
"There was one Google slide deck that an AE had put together, and many newcomers were using that. Others were taking marketing content and crafting their own proposals. Some of them were adding videos to Keynote files that resulted in a huge file size that was difficult to email."
Making better proposals their #1 priority
Proposals weren't the only issue that the sales team was facing. As an enterprise product, Paradox receives a lot of diligence and security questionnaires that the sales team needs filled out in order to close deals.
And although questionnaires were a pain point, Tara knew she had to first focus on finding a tool for AEs to create and deliver best-in-class proposals to prospective clients.
"The more I talked with the sales team, the more I realized that we needed to focus on one problem at a time, and our biggest problem was proposal creation."
Choosing a proposal solution that was fast, transparent, and traceable
When she decided to move forward with finding a proposal solution, Tara knew she needed something that would be easy and flexible. Another biggie for her and the team was a mean and lean Salesforce integration.

"We were looking for easy templates, easy content updates, a Salesforce integration, and the ability to know exactly what was sent to clients without digging through long email chains."
Proposify was the winning choice because of its drag-and-drop builder, proposal analytics, and Salesforce AppExchange integration.
Proposify's excellent implementation and training
As anyone who's ever rolled out software knows, the onboarding process is the hardest part. It can be challenging to adjust to a new platform and convince your team to use it.
Fortunately, the rollout went as smoothly as possible. Existing AEs were happy to adopt the platform because it saved them so much time, and new hires were impressed with how easy it was to send proposals.
"We brought on four new pieces of tech in Q1 and Proposify's implementation was the easiest and most straightforward. The Proposify team was on board the whole time to give us everything we needed. They knocked it out of the park."
The team at Paradox also opted for some of Proposify's professional services, such as proposal design, to help fill in internal skill gaps and get the new proposals launched quickly.
"The design services and the data mapping were so helpful to get the templates polished and ready for use. And we were very grateful for the different training sessions for each of our AE teams."
Paradox's formula for Proposal Perfection
Now, Paradox AEs use the exact same process to create on-brand proposals and send them to prospective clients.
1. Automatically generating proposal content with Salesforce fields
First, they login to Salesforce and update the pricing for that opportunity. Then they launch Proposify within Salesforce and all of the client's data is automatically mapped to the appropriate proposal fields.
"We use Proposify directly inside of Salesforce. AEs choose the right template and populate data from the Salesforce opportunity."
2. Customizing the problem section
The next step is to customize the problem section based on the client's needs. AEs can select from common issues stored in the Proposify template via snippets, or write up their own messaging to match the clients' specific challenges.
3. Adding in the right Olivia skills
Paradox's conversational assistive intelligence (AI) platform, Olivia, has several different skills that can be mixed and matched. AEs will select all the products that will help the client achieve their desired results.
The proposal template includes consistent messaging and pricing on all of these different skills, making it easy for clients to see what is included in the final price.

"I love the drag-and-drop features. AEs can add in the Olivia skills that are relevant to that opportunity and pick case studies to match."
4. Presenting the proposal and closing the deal
The Paradox sales team presents proposals during a live call. The AE shares their screen and walks the client through the proposal so they can be sure that the pitched solution is exactly what the client is looking for.
If needed, they can make any changes to the proposal before sending it to the client, who will then send it out to different internal decision-makers.
"Salesforce is our single source of truth. AEs don't have to type the same information multiple times, and we don't have to worry about proposals getting lost."
The result: proposals that are easy to create, update, and track
Today, Paradox's proposals look completely different—in terms of both quality and efficiency.
Tara can easily update important messaging, and AEs can generate new proposals in a matter of minutes. There's complete visibility for everyone into how proposals fit into the overall sales process.
"One of the things that I love most is I can make an update on one piece of content, and then it pushes it to all of the pieces of content that are connected to it. This saves me a ton of time, and now, AEs know they always have the most current information."
Sometimes the simplest things (like templates and synched updates) make the biggest difference. And Tara is looking forward to using more of Proposify's advanced features in the future.
"Proposify reminds me of how Paradox works with clients and how much importance we place on working together to find creative solutions."
To send proposals that integrate seamlessly with Salesforce or your favorite CRM, check out Proposify