< Back
Building Recurring Revenue for your Agency with Shopify
This week on Agencies Drinking Beer, we interview Aaron Whitman, founder of Able Sense Media based here in our hometown of Halifax, Nova Scotia.
An award-winning digital agency, Able Sense specializes in creating e-commerce solutions and customer experiences for clients across North America and Europe. Aaron talks about how Able Sense has capitalized on their Shopify expertise to create two of their own apps, Exportify and Teleport, that extend Shopify's core functionality, and provide steady recurring revenue for the agency. Tune in to also hear the secret to Kevin and Kyle's enduring partnership.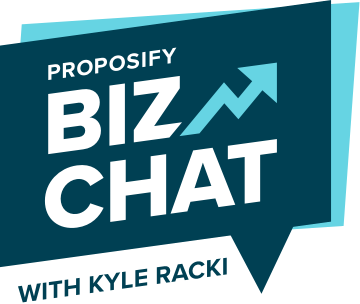 About the show
The Proposify Biz Chat is hosted by Kyle Racki, co-founder and CEO of Proposify proposal software. Each week, Kyle chats with friends and special guests about tips and strategies to help entrepreneurs, startups, and agencies grow profitable businesses.
How to Build a Profitable Business (Without Burning Out)
Our free ebook shows you how to grow your agency without sacrificing your soul, sanity, or life savings.
Download for free now