Brothers Antony and Jerome Ribot (pronounced 'REE-BOW') were each working for different companies when they happened to pitch together for the same client against some of the biggest agencies in London.
Although they ultimately didn't win the work (but came in a close second), the experience taught them something much more valuable; They realized that they worked well together, both as brothers and as business partners, and quickly decided they would form their own design agency.
Two weeks after starting Ribot, they secured new business with two major brands — Orange and Nokia — and the rest, as they say, is history.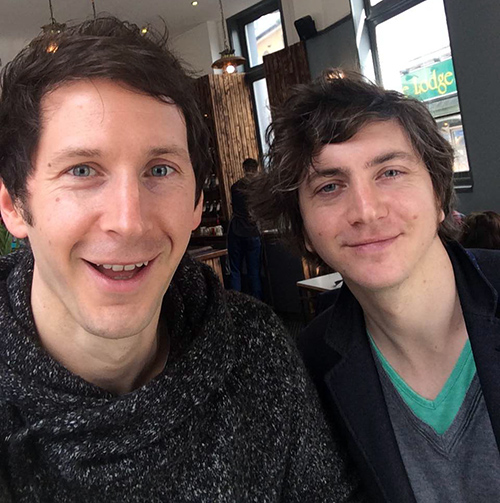 Ribot, now employing 18 people, specializes in designing mobile experiences that coincide with their mantra of "helping everyday people live simpler, more fulfilling lives". It may be that the passion the brothers exude when describing their work is precisely what enables them to win over clients like Google, Disney, Microsoft, Tesco, Samsung and Skype.
In addition to sharing with Kevin and me how they approach business development, they also revealed some cool insights into human behavior and cognitive science that they learned designing experiences, particularly in the retail space.
How to work with notable clients
While there's no one-size-fits-all approach to working with some of the most sought after brands in the world, the Ribot brothers share what has work for them to-date.
Networking - Antony, who primarily leads the sales at Ribot, says early on he networked heavily, especially in the mobile and telecom business community. By planting seeds every day, he was able to reap the benefits from those relationships later as he built the business.
Learning - The Ribot brothers describe themselves and their team as "sponges" - always eager to learn and continually hone their craft so they can provide value to others. They make a point to present insights to their clients based off of research instead of their own opinion, and then let data guide their approach after a project is launched.
Passion - When you have a clear vision of what you love and how it helps people, others are drawn to that enthusiasm. This helped them when pitching Tesco, for example. They were up against stiff competition, but in the end their passion won the client over and turned into a 9 month project. Another example is their work with Easyfundraising. Their passion for helping people directly assisted their client raise over ₤60,000 for charity.
Quality - In the end, if your work isn't great you won't get referrals or repeat business. In the case of Ribot's project with Tesco, their client made their money back 1 week after launching the app.




Understanding the human mind
Building consumer-focused apps has taught the Ribot brothers a lot about how people think and what goes into changing people's behavior.
They believe if you want to create tools that people value, then you need to understand why people value what they do.
Because of this fascination of cognitive research, they created a website called Cognitive Lode, which takes behavioral science and consumer psychology, normally dense and challenging subject matter, and makes it digestible, simple and clear.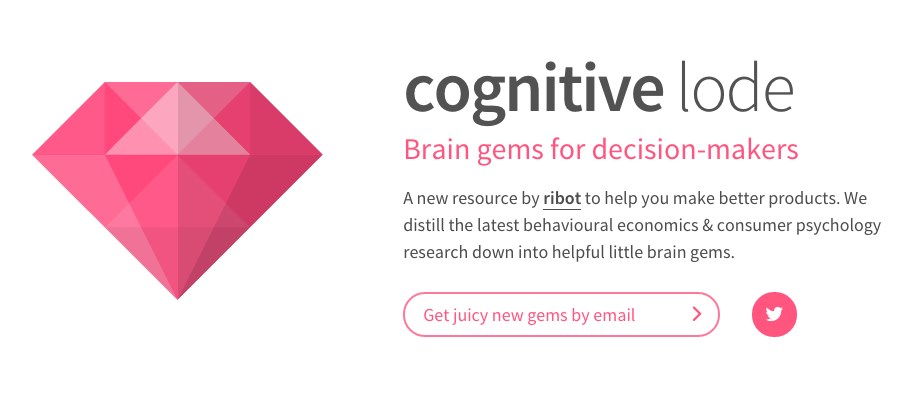 An example of one of these insights is Cognitive Miser, a psychological concept that proves how intellectually lazy we all really are. They proved it by stumping me on the podcast - and the beer certainly didn't help me preserve my dignity.
Antony and Jerome believe exposing this type of research to a wider audience and making it more accessible to non-academics will help inform designers when creating software people use so that it's better and more attuned to how people think.
Let's look at how they've applied this research directly in their client projects.
Using 3D proximity detection in the retail environment
16% of Tesco's sales currently involve smartphones at some stage of the purchase journey while 8% come exclusively from mobile.
Tesco faced a problem: they had over 10,000 toys available in their warehouse, but could only stock 700 in each retail store at a time.
The Ribot team came in to help Tesco give customers an interactive experience in the store while also helping them find the products they want. Using a large iPad, they created a simple app that allowed users to move around the interface and pick out toys, complete the transaction and pick them up the next day.
The really cool part is that they used a Konnect to detect how far away people were from the screen so they hid small text when people were far away and adapted the interface to draw people towards it.

"It's exciting to be alive right now. We're getting to a point where we're simplifying our everyday lives. There have been so many inventions in technology over the last 200 years and with each one we've had to learn them, they've been a barrier. We're getting to a point where we understand the value of design and we're designing technology to be invisible and the interactions are more physical."
— Antony Ribot
Where everybody knows your name: Removing friction from the user experience
Harris + Hoole wanted to make customers feel more welcome and at-home in their coffee shops. That's where Ribot came in to help.
Imagine this:
You're leaving to get coffee, open the H+H app and it automatically finds the nearest location around you.
You choose what you want to order and then ten minutes later you're in the shop when the barista, who you've never met before greets you by name and already knows what you want to order.
You have the option to pay directly through the app and top up your loyalty card which comes pre-filled (One behavioral insight known as the Goal Gradient Effect suggests that we purchase faster if a task is started for us.)
What it all boils down to is that the entire H+H ordering experience is simpler, quicker, more fulfilling and addictive than the competition.
By blending the physical and digital world to create a frictionless experience for users, the app has become a highly rated favorite among iOS and Android users and won Ribot numerous retail innovation awards.


Top 3 posts of the week