Internal approvals are great for compliance but they can cause major bottlenecks when it comes to getting deals out the door.
The key to streamlining your process is only flagging the documents and details that actually need to be reviewed. Having a blanket document approval workflow just doesn't make sense in most cases. When it comes down to brass tacks, you want to ensure your pricing is accurate, terms are legally binding, and the team isn't offering deep discounts that will impact the bottom line in a bad way.
So we are empowering your team to get focused on what really matters. Check it out!
New Approval Options
If you have our new pricing tables, you can now set approvals based on document type, deal value, optional fees, and total discount. Perhaps you only need a sales manager to review deals worth more than $25,000 or that have a discount larger than 30%. Now you have that option! Simply visit your Roles and Permissions page and set the parameters based on the user role.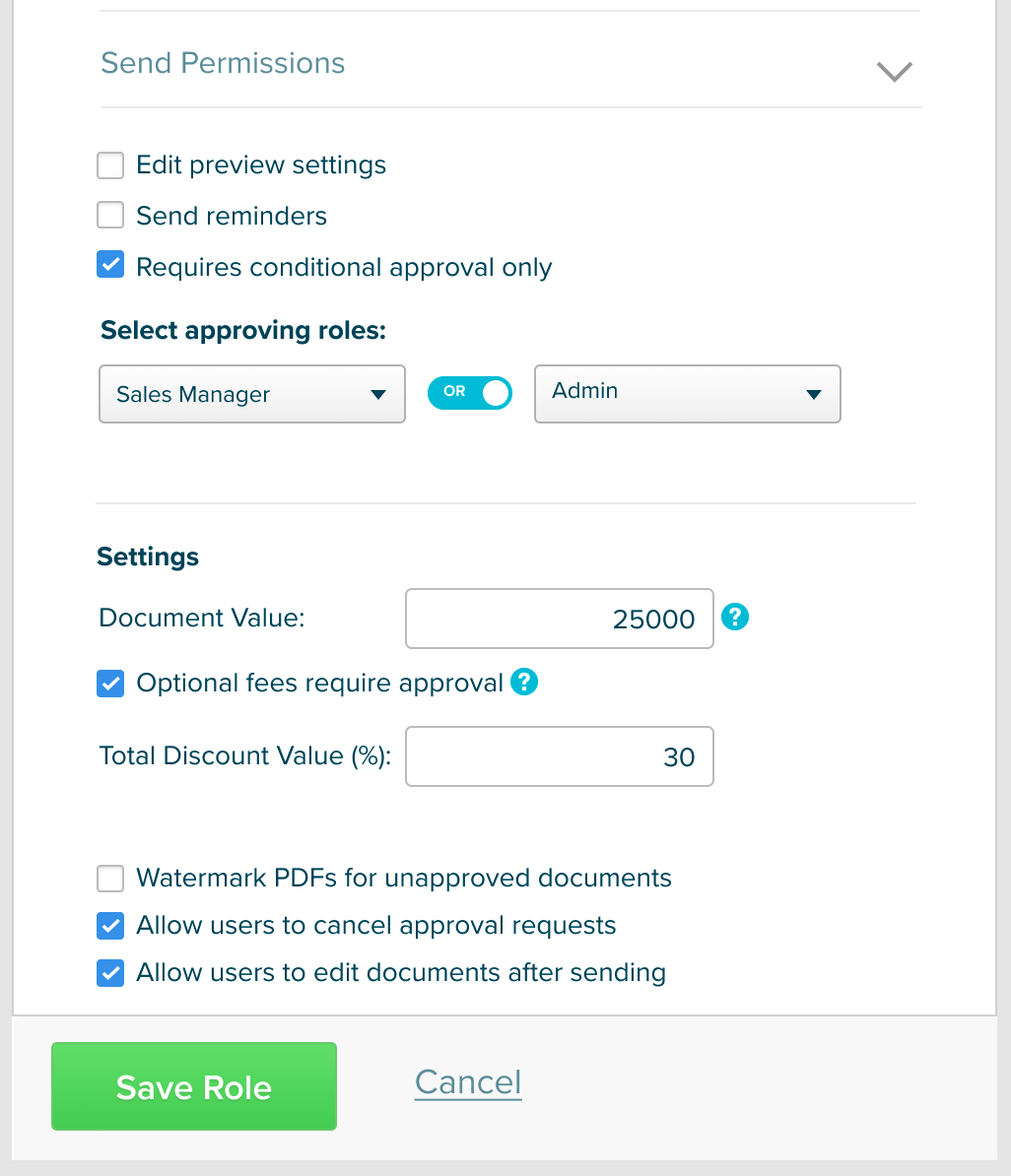 When the document details match the workflow criteria, then the assigned team member will automatically get notified. It's recommended that you include an alternate approver just in case the initial approver is on vacation or unable to respond in a timely manner. For example: You will notice in the image above that a Sales Manager OR Admin can approve.
We've also made it easier to approve on the go with our companion app improvements. If you don't already have this handy app on your device, you can download it here.
Mobile Approvals
To keep sales support moving forward, our team has enabled approvals within the Proposify companion app. Internal approvers are encouraged to set up the app on mobile so they can sign off from anywhere on any device. Team members can opt when to get updated on proposal activity but will always be notified when approval is requested.
A streamlined approval workflow makes sign-off a breeze while keeping your deals accurate. Be confident that your proposals are meeting compliance requirements while removing unnecessary roadblocks along the way.
To get your approval engine started, check out the video below or visit our Knowledge Base for further guidance.