I can't pretend that I've always liked sales. If right now I was being held hostage, deprived of coffee, and interrogated under a bright light in a stuffy boardroom and asked about it, my gut reaction would still be to say, "I hate selling", even though sales has been a natural part of my career for the past 15 years.
I think I'm still scarred by all the terrible salespeople I've interacted with over the years, both personally and professionally. You know the type — it's likely the same reason why you think you hate sales — smarmy, relentless, and only thinking about their commission.
But the reality is, that's just one type. Of course, not all salespeople are like that, and certainly not the successful ones.
As humans, we tend to remember the bad, focus on the negative (ever notice how you're quick to complain about that bad service you got as compared to how often you write to a company to tell them they did a good job?) so you've probably forgotten about all the times a salesperson helped you make a great decision.
And that's the secret right there. You felt like they helped you.
That's the sort of Jedi mind trick you need to put in action to transform your attitude about sales. And if you're in business at any level or you want to persuade anyone of anything, you need to get your mind right. You need to banish the thought of "I hate selling" from your mind. Your survival depends on it.
So here are some sales tips to make selling a little less painful and a lot more profitable.
First, lie down on this couch here and let's explore some of the reasons why you keep thinking, "I hate sales."
"He can sell a glass of water to a drowning man!"
People use expressions like this as a compliment, to describe how good a salesperson is. But being able to manipulate someone into buying something they don't need (or worse, is harmful to them) is not anything any real sales professional with integrity ever wants to be associated with, no matter how good the commission.
"Don't take 'no' for an answer"
There is a misconception that you have to HOUND your sales lead with phone calls, emails, drop-ins, and outright begging to get them to agree to a deal. While you need to be assertive in the sales process and deal with any reasonable objections, harassment makes for a very bad client relationship. Plus if you're actually selling something people need or want at that moment, you shouldn't have to wear them down to get them to say yes.
"I'm not an extrovert"
People have this idea that successful salespeople have to be big, loud talkers who slap you on the back a lot and laugh too hard at your jokes. But in reality, there's no real evidence that extroverts make better salespeople.
In a study of more than 4,000 salespeople, researchers found that the relationship between so-called extroverts and sales performance was practically ZERO.
There are advantages to both introverts and extroverts, and the most successful salespeople fall somewhere in between, called "ambiverts."
In another study, research found that introverted salespeople earned on average $120/hour, extroverts $125/hour, and ambiverts cleaned up at $208/hour.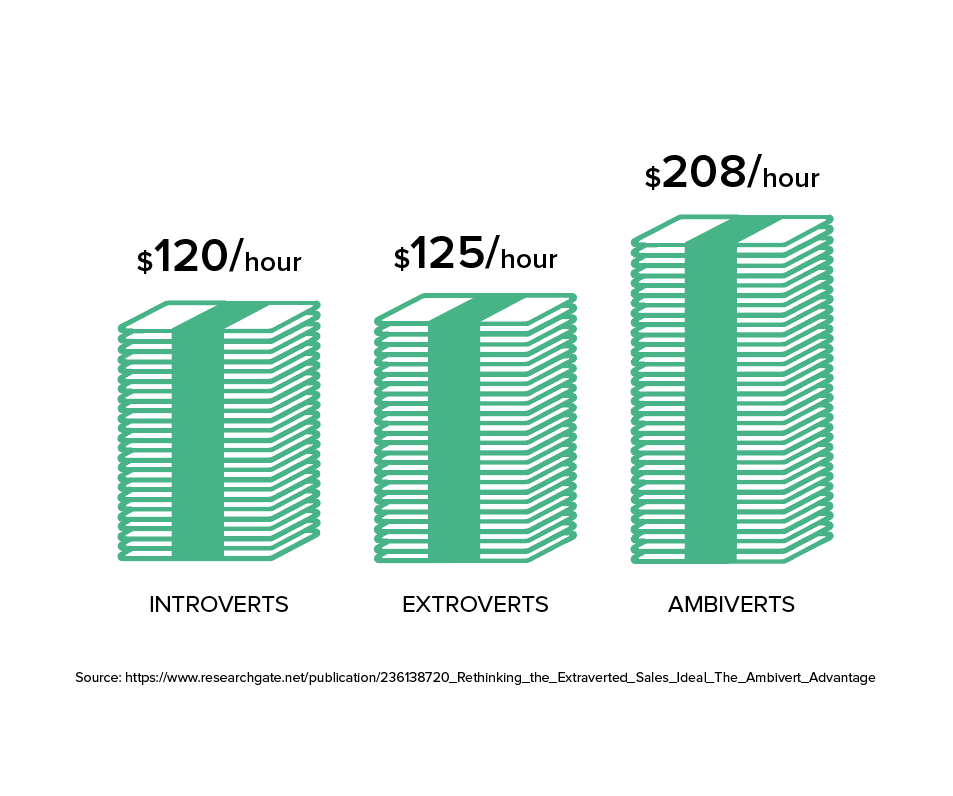 So now that we've ruled out these misconceptions let's look at ways you can view sales differently to help you feel more at ease with the selling process and more effective at closing deals.
"Everyone lives by selling something."

- Robert Louis Stevenson
You're Not Selling; You're Solving
People want to be helped, they want to improve their lives, they want to buy solutions to their problems. Whether that's help with their business, their complexion, their thinning hair, their leaky diapers, their diabetes, or the amount of time they spend creating a proposal (hint, hint).
Rather than pushing the features of your product or service, look at the benefits you can offer. Stop thinking of yourself as a product pusher and instead think of yourself as a problem solver, a life saver!
Instead of saying, "I hate selling!"; say, "I love solving!".
"Best way to sell something: don't sell anything. Earn the respect, trust, awareness of those who might buy."

- Rand Fishkin, CEO, SEOMoz
Find the Right Buyer
Back to my earlier analogy, if you're selling water, that drowning man shouldn't show up anywhere on your prospect list. Your target needs to be the desert, the ball field, the marathon finish line, the speaker's podium - wherever there are people who are actually thirsty.
Selling is a lot easier and more enjoyable when you're providing something someone needs. They'll be more receptive to your pitch, more likely to say yes, and more appreciative about how you helped them, thus establishing a relationship of trust that could encourage future sales.
Validate your leads and find the people with a problem you can solve.
Learn How to Go Cold
The term "cold call" strikes fear in the hearts of many, on both sides of the sales process. Even if someone likes sales, they often hate cold calling. Many salespeople find it neither effective nor civilized, and on the customer side, well, let's just say, DELETE.
But sometimes a cold email can be the only way to start a conversation with a new lead. The trick is to put some research and personality into your cold email to customize it for your recipient, to warm things up, shall we say.
Our CEO, Kyle, wrote a great post about the best cold email he's ever received along with some suggestions on how you can turn cold emails into a powerful lead generation tool that doesn't feel icky.
Get a Good Partner
Lead generation and sales prospecting have never been something I've been very good at. Or maybe to be more precise, it's not something I really like doing.
But you know who's really good at it?
Proposify's co-founder, Kevin Springer. Kevin's a lifelong sales pro and entrepreneur. He knows how to sell. We worked together for a number of years in the agency world, and we were a great sales team.
I would tell Kevin, "I don't want to find the buffalo. You find the buffalo and then I'll hike out into the plains and help you catch it, kill it, cut it up, bring it home, and serve it to the villagers."
While I don't like prospecting, I am good at helping to close the deal, and I like that part - meet the potential client, prepare the proposal, do the pitch, and then (fingers crossed) kick the project off back at the office.
If there's a certain aspect of selling that's difficult for you, find someone who's good at it and partner up with them. Complement each other's strengths to power up your sales process.
Great Product, Great Service
Selling is much easier if you're actually selling a great product or service, one that is backed by excellent customer service, and something you're proud to be part of.
It may sound hokey, but if you sincerely believe in what you're selling, you're going to be more enthusiastic and confident in your pitch and that kind of energy is totally contagious. Your sales lead will pick up on that vibe, they'll trust you. Plus, if you're selling something great, there will be positive reviews and referrals that can help strengthen your proposal.
While no one's service or product is perfect, do as much as you can to make sure the quality of what you're selling, and the manner in which your company deals with customers, sets a standard that leaves your competition choking on your exhaust.
Close Your Mouth and Open Your Ears
Worry less about what you're going to tell your sales lead and focus more on hearing what they have to say. The more you listen to your prospect, the more you'll learn about what's important to them, what they need, what their business challenges are, what they want to achieve.
The more you listen, the easier it will be to customize your proposal to exactly what they've been waiting for, and there will be no reason not to say yes.
Don't Be Afraid of Rejection
You're going to get rejected. It's part of the process. Don't take it lying down but don't take it personally either. It is part of the ecosystem of sales - some deals are going to die, but they may just give life to the next one.
I wrote another blog post recently about what to do when a client says no that will help take the sting out of sales rejection and maintain your dignity.
Get Over Yourself
Not to sound too harsh but really, sales is part of the grown-up world of business. If you want money, you need to know how to sell your product or service. If you want to convince your boss of a great new idea, you need to be able to sell that idea.
Done with integrity, sales is a natural process and one that everyone expects. I need you to sell me stuff. My business needs marketing services, my car needs new tires, my finances need an accountant. And I expect to pay for those services. There's no shame in it as long as you're honest and follow through.