If you're like me, you probably receive at least one or two cold emails every day. At least. It either slithers into your inbox or maybe it's the even more dreaded LinkedIn cold email. The one we scan for less than a second before hitting the delete key.
According to some tests Yesware ran, they received a 30-50% response rate from cold email. On the other end of the spectrum, Shane Snow from Contently sent 1,000 test emails to executives and received a 1.7% response rate.
Suffice to say, results may vary. This got me wondering what makes for the best cold email — the one that evokes a response, and what goes into a terrible email — the ones we ignore every day.
First, I went through my LinkedIn emails to find one of the worst cold email examples of what not to do, and came across this gem: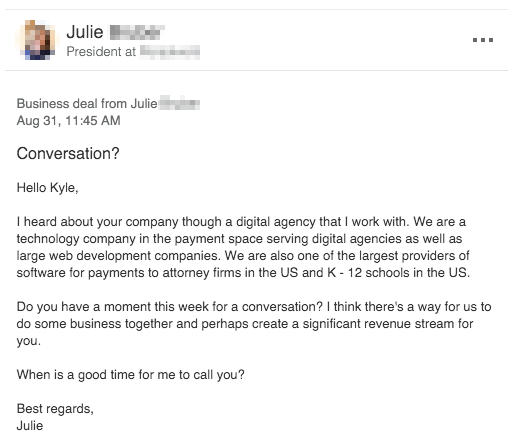 Poor Julie makes a number of cold email blunders here:
1. Too vague and self-indulgent
"I heard about your company through a digital agency"… Who? If I know them, it will add more credibility to this email.
"Technology company in the payment space." That could be pretty much any company.
"One of the largest providers of software for payments to attorney firms in the US and K-12 schools." Why do I care? What does that have to do with me and my business?
"Create a significant revenue stream for you" Talk is cheap. Everyone says they'll create revenue for you or grow your business; it means nothing in a cold email.
2. Assumes too much
Using the subject line "Business deal from Julie ___" implies that I'm already interested in doing business with Julie and we're at the deal stage. This is like walking up to someone you just met and talking marriage with them. Let's get to know each other first, OK?
3. Pushes for a call before telling me why
Julie failed to capture my attention or interest. She told me all about her company without giving me a reason to care. And then she has the gall to ask when it's a good time to have a call?
I may sound cranky, but this is the inner dialogue that goes on almost subconsciously in my mind when when I'm reading an email like this.

Make every deal a closed deal.
Proposify is the proposal software that puts sales pros back in the driver's seat of their closing process.

Wanna take it for a spin? Start a 14-day free trial.
closers, start your engines
The best example of a cold email
Compare that to the best cold email I ever received:
Subject: Magic Goggles
As soon as this email came into my inbox, the first thing I noticed was an animated image of my own website, the Proposify home page. That was like holding a bag of gummy worms over a toddler's head and saying, "Want this?"
Next, notice what Trey writes in the body of his message:
"Kyle, I wanted to give you a quick shout to introduce you to FullStory, a new tool that helps companies understand customer experiences like never before."
In just a few more characters than a Tweet, Trey shows that he knows what I care about. Proposify is a SaaS company. We care about delivering great experiences to our customers, and understanding those experiences is top-of-mind for me.
He didn't promise "growth" or "revenue", he promised something much more tangible. Understanding my customer experiences like never before. OK, I'm interested.
"The easiest way to get a feel for FullStory is to check out the 30-second demo of me interacting with your site:"
This next line shows that Trey has taken the time to research Proposify and show how the tool can be used on our own website. It's all about ME, not him. And it will take 30 seconds of my time.
"Want the FullStory? You can take it for a two-week free trial or shoot me a message if you have any questions. Happy Watching!"
This call to action is fantastic because it demands very little of me. If I'm interested, try it out for free. If I have questions, ask. This tells my croc brain that Trey is confident in his product and isn't trying to pressure to buy me over the phone.
Also, check out the difference between the length of Julie's cold email compared to Trey's.
Julie's email was 102 words and told me nothing about why I should care.
Trey's email was 30 words and got me curious and excited to learn more.
The follow-up email
I clicked the link to look around at what FullStory could do, and I received an email a day later.
This was a great follow-up email and resulted in us having a back-and-forth email conversation, which is what you want from a cold email.
The goal of a cold email is to learn if a prospect is right for you, not close a deal.
Trey caught me clicking his link, so he knew I was at least somewhat interested in what FullStory could do. That warranted a follow-up email.
Millions of proposals. Thousands of survey responses. Ten actionable takeaways.
The analysis and insight you need to dominate your deals in 2021 is right here.
Grab the free report
How to write a cold email for a service business

You may be thinking, "Sure, this might work if you're selling a SaaS product, but would this work when selling marketing or design services (or pool installation, or whatever service you offer)?"
Short answer: I don't know, I haven't tried it. But according to one of our podcast guests, Alex Berman of Experiment 27, who closed $400K of business in 30 days using cold email, you sure can.
Here's how:
1. Pick a narrow target
What made Trey's cold email stand out was that I felt like he knew me. This wasn't a shotgun blast out to a purchased list. He found my website, knew Proposify was his ideal customer, and went after the CEO (me).
You should know your ideal, perfect customer; their position in the company (CEO, marketing director, finance, IT, whatever), the number of employees, their annual revenue, and their industry. Then build up a lead list to research and go after.
2. Find leads
LinkedIn Sales Navigator is a great place to find your ideal client and which person at that company you should be emailing.
You can also use a tool like Rapportive to get more information on a prospect right within Gmail. It allows you to test different email formats to find someone's email, and if their email is connected to any social media, it will show up when you get it right.
A tool like Hubspot CRM pulls in details from across the web on who your contact is, their company size, industry, annual revenue, and so on. Also read this article on finding anyone's email address.
Using this information, you should be able to pull together a narrow list of companies who would be a perfect client.
3. Create a lead magnet
We normally think of lead magnets as being e-books or cheat sheets we give away on a landing page to get someone's email address.
But you can use personalized lead magnets, like Trey's 30-second Proposify video, to make cold email leads an offer they can't refuse (or refuse to click on, at least).
Let's say your perfect client is the marketing manager of a 100-500 person clothing and apparel company that does at least $10M a year in revenue.
Depending on the service you offer (e.g., SEO, social media marketing), you can create a way to analyze their business at a very high level.
You can use a tool like Quicksprout's traffic analyzer to get a full report on any website. Go to the website and enter a URL.
After a few seconds, it crawls the website and pulls together a full report on SEO, speed, backlinks, social sharing, and a ton of other information.
Take whatever data is relevant, and put it together into a beautiful, branded report with the client's logo or home page on the cover.
You're going to use this image in your cold email, so the first thing the client sees is their own brand, showing that this is about them and you took the time to learn about them.
Don't put the actual report in your email, just include the screenshot and link the image to a place where they can download it so you can track their opens and clicks.
For example, using Proposify, you could design an awesome looking presentation or report that you can quickly swap out customized information depending on the client you're pitching.
You can turn off the fee table and accept/decline buttons, so the only thing your client can do is open and download the PDF of your presentation.
You'll get notified as soon as your client opens the email, clicks the link to view the proposal, and you'll see an activity feed showing which sections they looked at in the document.
4. Keep your cold email short and simple
Remember Trey's email; he didn't use a lot of words. He made it about me and the one thing he wanted me to do: Click the link to view the lead magnet.
5. Be light-hearted or humorous
According to Yesware, emails with humour received a 46% open rate.
I interviewed Jon Buchan from Render Positive in London on the Agencies Drinking Beer podcast, and he used humour in a cold email to get the biggest client in his company's history. Listen to the interview here.
Trey's email wasn't funny, but he kept the language clear and friendly, ending it with "Happy Watching!" Test your approach, and you'll learn what works over time.
6. Track opens/clicks and have your follow-up email ready
Since you're using a tool that lets you know when a prospect has clicked your link and opened your lead magnet, you'll be able to follow up with a canned response like the one Trey sent.
Example:
Hey Betsy,
Couldn't help but notice that you had a chance to open the social media report I ran on [client_company] yesterday. There were some interesting trends and a bit of room for improvement.
Wanted to see if I could answer any questions for you? I'd be happy to give you a quick 20 minute demo on [our_company] to show how we can help.
If you're busy, no problem, just check out this 20-minute webinar we recorded that shows how we helped another clothing/apparel company like yours improve their social leads by 76% in 3 months.What do you think?
Best,
Conclusion
Cold email doesn't need to make you feel like a cold fish. If done strategically, measured and optimized over time, you can see amazing results, even for high-end services.
Also, check out this post that includes 15 free cold email templates and the definitive guide to cold email.
Any ideas, questions or suggestions? Leave a comment below - love to hear what you think.