< Back
How To Use Data To Grow Your Agency
This week on Agencies Drinking Beer Kevin and Kyle interview Ben Wald, founder/CEO, and Gabe Weaver, COO of Spartan Systems, based in Chattanooga, Tennessee. Spartan is a full stack agency that works with early to mid-stage ventures. Ben and Gabe talk about how being data driven helps Spartan sell projects profitably, manage client expectations, and advise clients better. As Ben puts it, "If you can't measure it, you can't manage it." Also in the episode you'll learn that Chattanooga is home of the fastest internet in the US, Kevin hates the word methodology, and how Spartan and Proposify are going to have a GIF-off.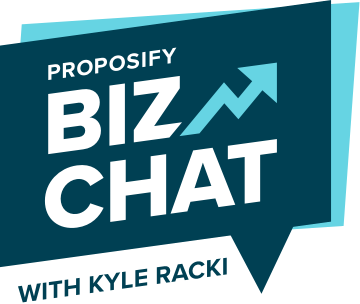 About the show
The Proposify Biz Chat is hosted by Kyle Racki, co-founder and CEO of Proposify proposal software. Each week, Kyle chats with friends and special guests about tips and strategies to help entrepreneurs, startups, and agencies grow profitable businesses.
How to Build a Profitable Business (Without Burning Out)
Our free ebook shows you how to grow your agency without sacrificing your soul, sanity, or life savings.
Download for free now