Why are electronic signatures important?
According to Proposify's annual State of Proposals report, proposals with eSignatures close 35% faster compared to proposals without. But electronic signatures aren't only about speed and convenience, they're actually more secure, too.
Electronic signatures collect both the identity of a person and the intention to sign a document. Digital signatures create a unique mark for each document that allows you to verify its authenticity.
A common question is what happens if a proposal is signed using eSignatures and someone decides to change the document afterwards?
Because all eSignatures are time-stamped, software applications can recognize if any changes to the document have been made after the user has signed it. The Proposify platform makes sure that all signed proposals remain true to the original idea.
If edits are made to a proposal that is already signed, existing signatures are removed and all signees must re-sign the amended proposal.
Here's how to do an electronic signature on the most common platforms:
How to do an electronic signature in Word
Microsoft Word has an electronic-signature feature that lets users create signatures and add them to documents.
Although Word is popular, it has limited functionality when it comes to electronic signatures and other related features, making it less suitable for the needs of many organizations than a specialized signing software like Proposify.
The process for Microsoft Word requires a scanner and to physically draw your signature on a piece of paper before uploading it to your computer to look like so: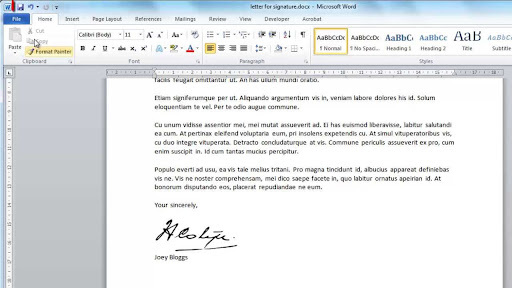 Here's how you do it, according to Microsoft's official support page.
Sign your name on a piece of paper

Scan the page and save it on your computer in .jpg, .png or .bmp format. The manufacturer's manual or Web site can show you the basics of using your scanner.
Open the image file of this document you just scanned.
If you need to crop the image, click it. This will then open the Picture Tools Format tab. Click Crop, and crop the image.
Right-click the image, and then click Save as Picture to save the picture as a separate file.
To add the signature to a document, click Insert > Pictures.
How to do an electronic signature in a PDF

Let's get it straight from the horse's mouth. From Adobe's PDF instructions, the process goes like this:
On your computer, open the PDF document or form that you want to sign.
Click the Sign icon in the toolbar or choose Tools > Fill & Sign. Alternatively, you can choose Fill & Sign from the right pane.



Click Fill & Sign



Lines are automatically detected in a text box. When you move your mouse over the field, a blue box appears. Click inside the blue box, and the cursor moves to the correct position. Type your text on those lines.



Hover the mouse to display the detected text field



You can choose a color to fill in the PDF form. Find the Fill & Sign menu's color button and select your option.
To keep the default color of the signature black, uncheck the Retain Original Color For Signature option.
To add your signature, click the Sign icon in the toolbar. Then choose whether you want to add your name or initials.



Now that you've added signatures or initials, they appear as choices.

You can add a signature or initials by selecting an existing signature from the Sign options and then placing your cursor where you want it to appear.

If you are signing the document for the first time, you'll see the signature panel. Here's an example of the signature panel.



You can choose to type, draw or import a signature or initials. You can also save a signature or initials for future use.

Type: To add a signature, type your name in the field. You can choose from a small selection of styles; click Change Style to see different options.

Draw: Sign your signature in the empty space.

Image: Browse, then choose the image of your new signature.

Save Signature: When you check this box, the added signature is saved securely in Adobe Document Cloud for future reuse.

To add a signature or an initial to a PDF file, click Apply, and then click the space in the PDF where you want to place the signature or initial.
To move the placed signature or initial, click the field to highlight it and then use the arrow keys. To resize or delete the field, use the options in the field toolbar.

How to do an electronic signature in Google Docs
Google Docs doesn't have a direct tool for electronic signatures, however How to Geek details a workaround option of using the native drawing feature and saving your signature as an image.

Additionally, there are a variety of Chrome extensions and Google Doc add-ons that make it possible. Some of the best options are Hellosign, Simple Signature for Google Docs, and Dotted: Signature Creator.

To create an electronic signature using Google Docs drawing feature, follow these steps from How to Geek:
Create a new 'Drawing' in Google Docs




To sign the document, select "Scribble" and sign your name



Click Save and Close



Next, select 'Insert' then choose 'Drawing'
You'll see a window pop up showing all drawings you have saved with your google account
Select the image with your signature and click 'Select'
The image of your signature will be inserted into your document at the location you selected
How to do an electronic signature with eSignature software
You might be thinking that with all the available technology today, isn't there an easier way to handle all of this?

Good news. You're right.

Proposify provides two ways to sign your proposal electronically.

You can type in your name and select your desired font style to display it in:
Or show off your top-notch mouse-drawing skills: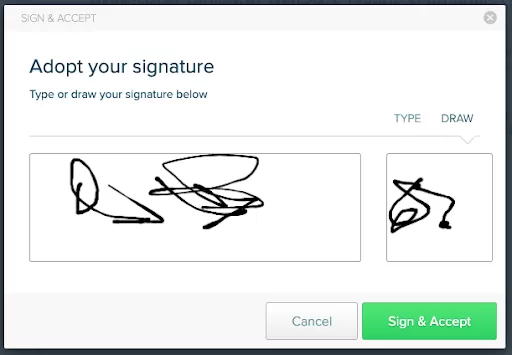 Our electronic signature app allows you to immediately create and send electronically signed agreements that get agreements done faster and with much less hassle than any other process on the market.
Get started with easier eSignatures
From increasing the likelihood of a client saying yes to being able to securely monitor changes to a document, it's clear that there are numerous benefits to using online signatures over traditional avenues.
Our goal with this article was to review the options for implementing an online signature for multiple platforms and ultimately help you decide on a platform.
Featuring the ability to securely and instantly electronically sign from anywhere, Proposify gives you what you need for easy and consistent electronic signatures. Give us a try and schedule a free demo of our electronic signature software today!