What's in this guide:

What is an online contract?

How to collect electronic signatures

3 online contract templates to try
Looking for professional proposal, contract, and quote software? Get started with Proposify's contract templates.

What is an online contract?
Online contracts are agreements between two or more parties for a professional service, like accounting or event catering, or an important purchase, like a home or manufacturing equipment. Online contracts utilize digital workflows, electronic signatures, and automated reminder emails in place of wet signatures and old-school processes like printing and faxing to make the signing process more convenient and efficient.
Just like written contracts, online contracts outline the specifics of the agreement, whether that's a title transfer, loan repayment plan, software implementation proposal, or business partnership.
Are online contracts legally binding?
In the US, The Electronic Signatures in Global and National Commerce Act, also known as the E-Sign Act was signed into law on June 30, 2000. No specific software requirements were given, but the act does state that consumers must be able to easily access the information in the electronic form that is the subject of the consent. In other words, e-signatures and contract documentation need to be presented together not separately, so people know what they're approving.
Each country has its own legislation surrounding e-signatures, but they are generally legal around the world. Electronic signature software has a variety of features in place to verify and prove signer identity, offering you traceable records.
If you have further concerns, be sure to check out our blog post with common e-signature myths (and why you don't have to worry about them).
What is the difference between an online contract and a written contract?
The biggest difference is speed. Paper contracts signed with ink can easily take 2 to 5 days to get signed. You need to print the document, set up an appointment, drive to your client's office, hand them a pen, and get them to sign. (Or use a fax machine, which almost no one has anymore.)
With online contracts, you can collect signatures much faster. When we analyzed all of the proposals sent with our proposal software last year, we found that 50% of proposals are created and sent in under 17 minutes, and 45% get signed within 24 hours or less.
Not only is signature collection faster, but signature verification is quicker too. Should there be any legal contention on an ink signature, you would need to hire a forensic signature specialist to check that person's signatures against other documents and deny the likelihood of forgery. But with online signatures, you can use your software's certification of IP addresses and signer identity for instant proof.
And lastly, online contracts are less likely than paper contracts to get lost or misplaced, because you can store them securely in your contract software.
What are the different types of online contracts?
There are so many types of contracts in the world, but these are the most common types:

Employment contract

Sales contract

Statement of work contract

Rental contract

Loan contract

Lease contract

Partnership contract

Non-disclosure agreement (NDA)

Purchase agreement

Licensing agreement

Franchise agreement

Joint venture agreement

Indemnity agreement
Each type of contract has its own set of best practices for ensuring legal protection in the event of a disagreement.
How to collect electronic signatures
Gone are the days of printing, signing, and faxing contracts. Electronic signatures are the new norm.
Here are five simple steps for collecting electronic signatures.
Step 1. Create your online contract
The first step to collecting electronic signatures is to create your online contract. To make things easier, kickstart your contract with a pre-written template. Templates help you speed up your research and your writing by showing you what to include. You can always add extra legal clauses to fit your needs. (Consult your business lawyer for advice.)
Keep in mind that you can also craft a custom contract for your business and then store it in your proposal software so it's readily available for use. Add custom fields to your template, such as client name, business name, and industry, so it's quick and easy to generate contract for each new client.
Step 2. Add e-signatures and sign your own fields
Once you have created your contract, the next step is to add electronic signatures. To do so, create signature fields where you and your signatories can sign the document. You can also add text fields to collect information like phone numbers, addresses, etc.
Make sure to sign your own fields to indicate that you have agreed to the terms of the contract. This inspires confidence in the other signatories. In fact, we've found that contracts that are signed by the sender first are 5X more likely to close.
Step 3. Set up automated reminders
It's also a good idea to set up automated reminders before you send your online contract to keep the signing process on track and prevent project delays. Automated reminders boost your closing rate by 50%.
Set up these reminders inside of your e-signature software. Most platforms offer short and sweet email templates that you can customize to match your business. Set up no more than 3 automated reminders (because after that point, you should give the signatory a call and find out if anything is keeping them from signing).
Step 4. Send the contract
Now that you've proactively signed the contract yourself and setup reminders, it's time to send the contract to your signatories. You can generate an email notification to sign through your contract software, or share a secure link.
Step 5. Securely store the signed contract
Once the contract has been signed, make sure to save it. Most electronic signature platforms will automatically save a copy of the signed document, as well as the technical details of the signature (email address that opened the notification email, time of signature, IP address, etc.). The more advanced and secure your platform, the more behind-the-scenes data it will collect.
Your signature platform should also automatically email a copy of the signed document to all signers so they can refer back to it as needed. Double-check your platform's settings to make sure it will handle this for you.
3 online contract templates to try
These online contract templates do the heavy lifting for you. Use them to speed up your contract writing process.
1. NDA template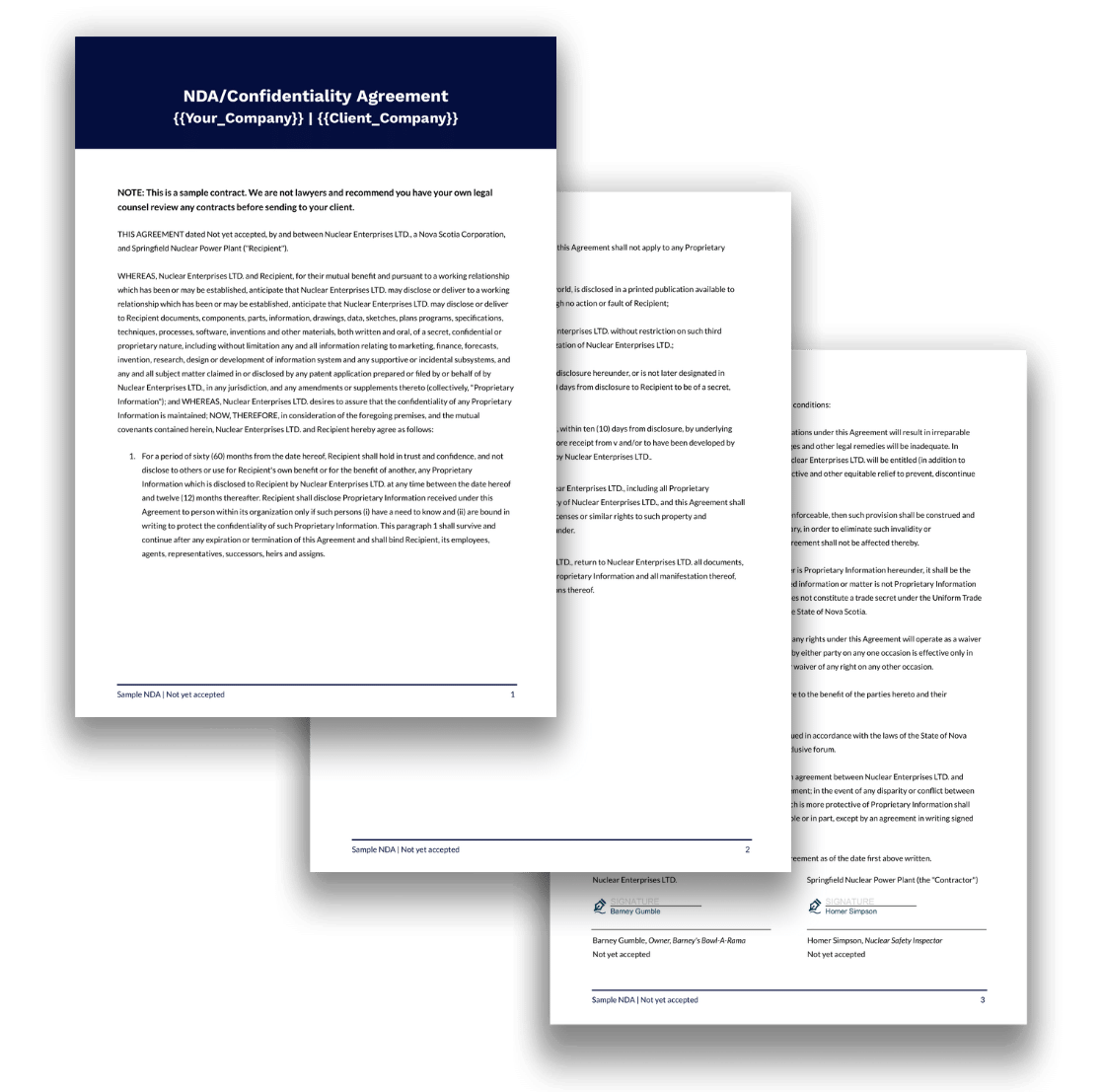 NDAs are frequently used at the beginning of a business engagement to ensure that neither party will share the intellectual property of the other. For instance, a marketing agency might need to sign an NDA before they're allowed to hear about a brand's new product in order to pitch their product launch services.
Our NDA template is ready to go as is, or can be easily modified. The template includes essential NDA legal clauses and legally binding e-signatures.
2. Partnership agreement template
Starting a business partnership? You will need a partnership agreement to clarify the ownership of profits and losses, the roles of all managing partners, what will happen to the business partnership in the event of the death of a partner, and what legal body the partnership will defer to for any disagreements.
You can use our partnership agreement template to help you easily draft your own contract. The template offers clauses for contract terms, capital contributions, profit and loss sharing, owner salaries, managing duties, banking processes, arbitration, and more.

3. Statement of work template
Statement of works can be sent as stand-alone contracts or as part of a project proposal. The statement of work is intended to clarify the service that will be provided by a third-party contractor, such as a photographer, business consultant, or architect.
With our statement of work template, you can easily modify all essential elements, including the objectives, scope of work, requirements and tasks, the period of performance, the place of performance, and the project schedule.
Looking for more templates to help you send agreements in a snap? View all of our contract templates, proposal templates, and quote templates.
Try our online contract software and templates for free
To send online contracts, you need a secure platform for e-signatures and document storage. You should also make sure that the software you choose offers features that will save you time, such as a library of templates and email reminders.
Proposify is an online contract maker and proposal software that lets you generate beautiful proposals and simple agreements in a matter of minutes. Use our templates or create your own. Track opens, views, and acceptance rates for individual agreements, categories, and your account as a whole.