< Back
Dread Deadlines No More with 5 New Free Business Proposal Templates!
Creating proposals can be stressful - the timing, the offer, the commitment - we get it. That's why we're launching five new free business proposal templates to help take some of the pressure off your plate. And since all of our templates are 100% customizable, you have to power to make your next proposal a made-to-measure winner.
We've been seeing each other for a while now, and I love all the time we spend together. I feel like we really connect every time you log in, and I'd like to take our relationship to the next level. Will you, loyal Proposify customer, take my hand in...just kidding, we only do business proposals. But we are committed to giving you what you need, which is why we added five new business proposal templates to our gallery just for you!
Choose from 45 professionally written and designed proposal templates for an array of services, industries, and projects, so you never have to worry about battling writer's block or getting your proposal out on time again.
Our latest templates include: solar energy, digital marketing, investment, insurance, and corporate training services.
Our business proposal templates provide suggestions for copy and design, but if it doesn't quite fit what you need, change it up! All of our templates are 100% customizable, including text, layout, design, and images.
All of the proposals feature sample contracts and the ability to add legally binding online signatures, but if you want to make sure your butt is covered, get a lawyer to check things over (think of it like a proposal prenup).
Stop wasting your time and sanity wrestling with boring Word docs when you could be creating beautiful, client-pleasing proposals in record time. Check out our full gallery of free proposal templates to get started.
Solar Proposal Template
Solar energy companies will find this free solar power proposal template valuable when preparing solar panel project proposals and solar panel installation quotes. Highlight your experience as a solar energy business, include an overview of the design and installation of your solar energy systems, and provide a proposed budget and timeline. Check out our free solar proposal template.
Digital Marketing Proposal Template
Digital marketing agencies and consultants can use this free digital marketing proposal template to pitch their strategy, campaigns, or digital marketing plans to businesses and potential partners. Explain how your content development, distribution, optimization, and lead generation will increase conversion rate while providing a clear timeline for your client. Check out our free digital marketing proposal template.
Investment Proposal Template
Investment and financial advisors preparing plans and presentations can use this free investment advisor template when pitching their services to potential clients. Explain your objectives, your strategy for learning their goals, and how you plan customized investments and financial strategies. Check out our free investment proposal template.
Training Proposal Template
Companies providing corporate training and development services will find this training proposal example comprehensive when preparing an estimate. Explain your analysis and assessment process, training and curriculum development, approval and implementation process, and highlight various levels of training available. Check out our free training proposal template.
Insurance Proposal Template
Insurance providers will find this free insurance proposal template effective for preparing commercial, life, property, and business insurance quotes. Include sections that feature the goals of the insurance you provide, as well as a description for each type, including personal insurance, insurance for assets, liability insurance, and plans and pricing options. Check out our free insurance proposal template.
Struggling to write a proposal? Fast forward to send.
Our gallery of free proposal templates can kick-start your sales process.
View Templates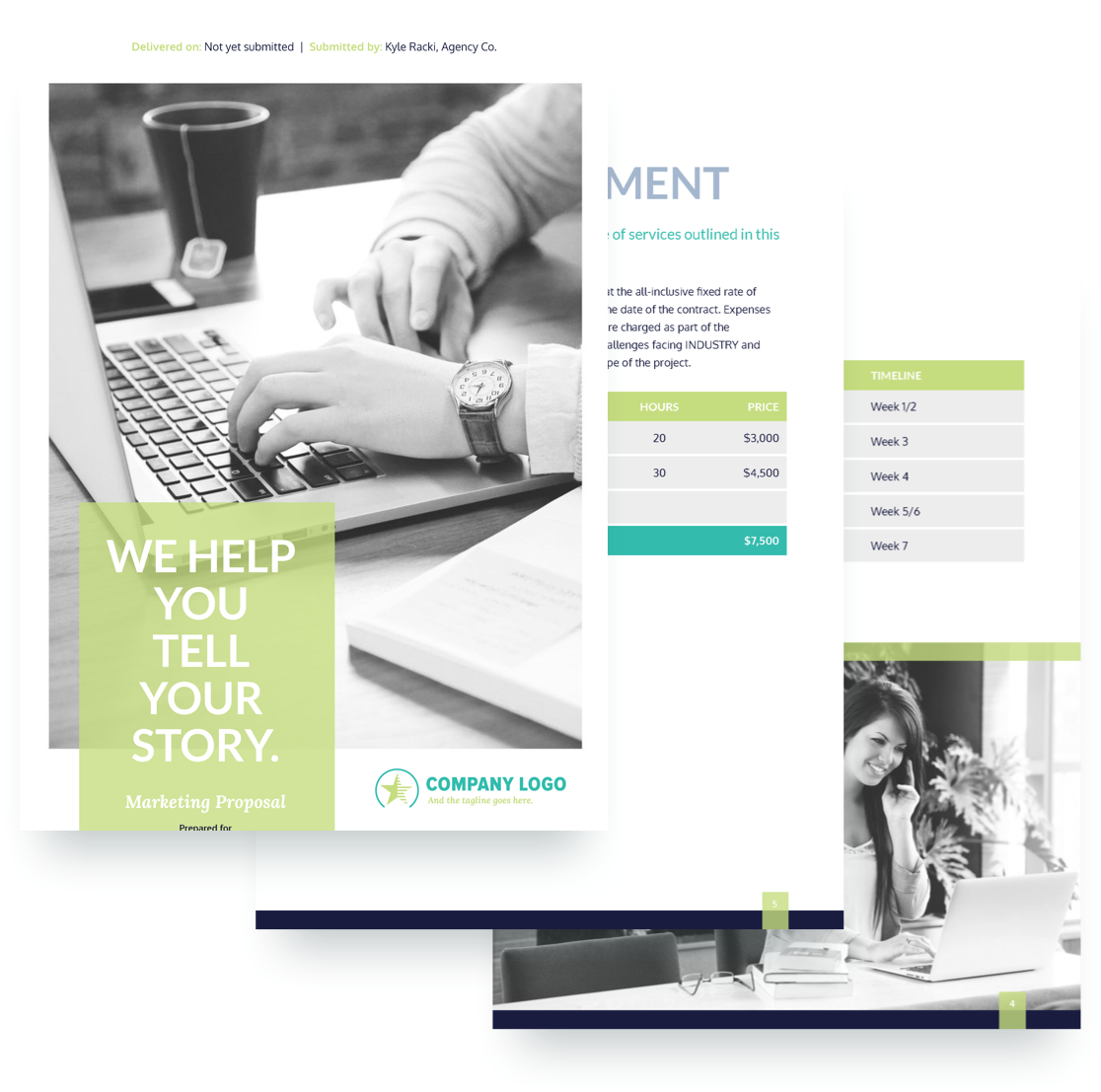 Your mission? Close the deal. Your secret weapon? Our proposal templates.
Our free, professionally written and designed proposal templates can help you win the battle for better business.
View Templates