The purpose of this guide is to provide a clear set of rules when it comes to how to draft, format, and implement a successful, stress-free sales proposal.
We'll take a deep-dive into the elements that need to be included, why these elements are essential for success, and how to effectively structure your proposal so that it's easy for your customers to understand their problem, your proposed solution, and make them eager to start doing business with you.
What is a business proposal?

A business proposal is an offer from a seller to a prospective customer. It's a document that outlines the scope of work, costs and deliverables for a project. Unlike estimates and invoices, business proposals are written before any work has started and are used to win new clients.
Business proposals can vary; however, there's one thing in common: their purpose is to convince potential customers to buy your products or services.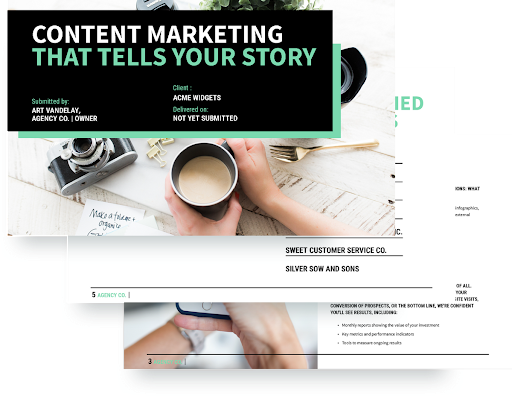 They can be grouped into two categories:
Solicited proposals:
This is also known as an RFP (Request for Proposal). It's sent in response to a request from an existing customer or when contacting a company you already know. This type of proposal is based on the specifications provided by the client and must include all the information they have requested.
Unsolicited proposals:
Unsolicited proposals are sent to companies you don't have an established relationship with. This type of proposal is more like a sales pitch as you don't have any specifications to follow. In this case, you need to include as much information about your products or services as possible in order for your potential client to assess whether you're the right fit for them.
Why putting time and effort into your business proposal will pay off
If you've just landed a new prospect, you're likely both excited about the opportunity and wanting to move forward.
A well-crafted business proposal is a step toward landing the deal. A poorly crafted one, on the other hand, might give them reason to take their business elsewhere.
The hardest part of writing a business proposal is making a compelling argument for your work.
You need to show that:
you clearly understand the client's needs
you have the right skills and experience to undertake the project
your ideas are original and fresh
you have the willpower and determination to follow through on your promises
you have personality! (Nobody's here for the boring business stuff)
With the world's information always quick search away, clients want to know why you're the absolute best solution to their problems, and that you're going to be worth investing in.
To ensure that you're always sending out top-quality proposals that will win over clients, use these data-backed best practices for writing business proposals in 2022.
Best Practices: What Should a Project Proposal Include?
A proposal's structure and flow is like that of a story: it has a beginning, a middle and an end. Just like a good narrative, it is organized and tells a convincing story designed to captivate clients.
Most proposals follow similar patterns, but every proposal will be different depending on the company, industry, deal size, and the product or service in question.
The following sections detail the sections typically found in business proposals as well as explain how to include them.
1. Cover Page
It's hard to judge a book by its cover, but you can guess how well it will sell. A sales proposal cover page that is clean and informative, including the client's name, your name and contact info, and the date submitted, is key to gaining and keeping a client's attention. Consider including a table of contents to make it easy for the client to jump to the area they need to review.
2. Executive Summary
The executive summary isn't a brief rehashing of the whole proposal, it is a highlight of the most important elements of your business proposal. The goal is to show the client that you understand their background information, business plan and unique challenges--and that you are just the one to solve them. Pique their interest and give them a reason to continue reading.
For inspiration writing your executive summary, take a look at these three executive summary examples you can steal.
3. Approach/Solution
How do you solve your prospects' problems better than your competitors? How can your company solve customers' pain in ways that are unique and compelling to your reader? The key to successful proposal writing is to outline the ways in which you provide solutions and make yourself a winning choice.
4. About Us/Our Team
Introduce your leadership team, company founders, and team members who will be working with your new clients on their project. Better yet, show how the members of your team have had success handling similar situations in the past.
The goal of this section is to give your client confidence that they will be working with a competent, professional team and minimize any doubts they might have about hiring you.
Pro Tip: in marketing, it's well known that including real, human photos increases trust with a customer and as a result, higher conversion rates. Apply this insight to your about us/our team section to create a memorable impression with your reader.
5. Deliverables
The deliverables section of a business proposal is probably the most important section because it outlines exactly what will be delivered for the client.
It's important to always include this section in your business proposals, as it gives the prospect a clear picture of what you are going to do and how you are going to do it.
The deliverables section should outline details like:
The scope of the project includes recommendations based on research and analysis.
What you will provide (content, design, strategy, etc.)
How you will provide it (online, onsite, etc.)
When you will provide it (timeline)
Who will be responsible for what tasks and when they will be performed.
6. Pricing
Aim to keep your pricing section succinct and straightforward. Explain how much their total investment is going to cost. List and describe all the project fees, taxes, discounts, and optional extras. If your client has any confusion or concern about hidden extra fees, they'll be more likely to trust you less — leading to a higher chance of rejection.
Highlight any additional costs that may arise during the project lifecycle. Clients tend to be sensitive about extra costs that weren't mentioned in the proposal. The more transparent you are with them, the more likely it is they will trust you and be willing to pay those additional costs if they crop up later on in the project. Make sure this is crystal clear in your business proposal price section so there's no confusion about what's included and what's not included in your pricing
Pro Tip: Instead of referring to your prices as fees or charges, label your pricing section Your Investment. This will remind people they're making an investment in their own development and that of their team and organization.
7. Terms and Conditions/Sign Off
If you've gotten this far, you're on the home stretch. The closing of a business proposal should be the easiest part of creating it. You already did the hard work in the beginning and throughout, so it's time to wind down and push things over the finish line.
A clean, well-designed page is a great way to close out your proposal with confidence. Just make sure that you include all the necessary information: a place for your new client to esign, clear, up-to-date terms and conditions, and any other last-minute details they may need to review before making your partnership official.
8. Bonus: Case Studies
A case study is an in-depth look at a single example of a success story. It's typically used to demonstrate how your offering has helped a customer overcome a key challenge they've been facing, and how it's delivered tangible results as a result.
Case studies and testimonials are particularly useful in the closing stages of the deal cycle, when buyers are trying to determine whether or not a proposed solution is right for them. Social proof from a client who's experienced success with your solution can go a long way in helping get your buyer over the line.
How Should A Business Proposal Look?
Given the high stakes of winning new business, you can't afford to have a bad looking proposal. You've got to make it look good and fast.
Too many people focus on the content and forget about the design. The truth is both are equally important to the success of your proposal.
If you're not designing, you're losing out.
A well-designed proposal with engaging, high-quality images, graphics and video stands out from the competition and quickly communicates value to decision makers. Business proposals that stand out close deals.
Proposals with images close at a higher rate
In Proposify's annual State of Proposals report, we analyzed the data from the 1+ million business proposals sent through our software in 2021.
When it comes to images, the message is clear. Proposals that include images perform significantly better than those without. In fact, project proposals that contained images were 72% more likely to close, and they did so at a 20% faster rate.
If you're looking for a way to make your proposals shine, adding images can be a real game-changer. They can help catch the attention of your prospect, while also allowing your company to show off its expertise and communicate ideas more effectively.
But which images should you include? Here are some suggestions:
Headshots of your team members:
If you're offering services, it helps to let the prospect know who they'll be working with. It also helps build trust — if they know who you are and can put faces to names, they'll feel like they have an established relationship with you by the time they open the proposal.
Product shots to show off what you sell:
If you're offering a specific product or service, including photos gives the prospect a better idea of what it entails. Product shots are particularly useful if you're selling through an online marketplace such as Amazon or Etsy, because customers will already be used to seeing them there.
Images that illustrate your services in action:
For example, if you were pitching for a window cleaning job, showing images of past projects would serve as case studies that would help show off your skills and convince the prospect that you could create something similar for them.
Adding video to proposals increases close rates
Rather than just talking about how a proposal was constructed, proposal videos can show the reasoning behind their pricing. This makes the close much more effective, and greatly helps to close deals.
(Need help with video? Check out Vidyard.)
When your client shares your proposal internally, video makes it easy to have conversations where your voice is always present. Your client will love you because you're explaining the deal yourself. Decision makers and buying committees will love you because you can demonstrate how you'll solve their problem in 5 minutes, asynchronously, instead of 30 minutes over a scheduled call.
From Proposify's annual State of Proposals report:
"Video is quickly becoming a critical part of the closing process. In 2021, there was a 40.5% year-over-year increase in the use of proposal video. This is up from a 31% YOY increase in 2020. Despite this increase, however, only 21% of all proposals contain video."
As companies search for creative ways to engage potential buyers, you can capitalize on this strategy now to help your deals stand out.
For inspiration, check out these examples on winning proposal design.
Sales Proposal Follow-Up
The best way to follow up with leads is to use data, not guesswork.
Professional persistence is an important element of good salesmanship—and when done right it can go a long way. A cautious approach and a smart strategy, not to mention personal reliability, will pay off.
How you follow up after sending a proposal is just as important as the proposal itself, and the timing of your follow-up can be the deciding factor in getting a deal closed, so it's important to know when is best to reach out.
You're more likely to succeed when you reach out with important information based on your prospect's behavior. For example, if you know that prospects open a proposal an average of five times before they make a decision, build high-importance tasks into your process for reps to follow up on the proposal as soon as it has been opened for a fifth time.
To effectively use your follow-up process, you need to know the baseline metrics of your team. Once you know these numbers, you can identify patterns that indicate a deal may be in trouble and act before you miss your opportunity.
Ready to get started but need some inspiration?
Proposify's free Proposal Templates include everything you need to dominate your brand pitches and win more clients. Included are dozens of business proposal templates for businesses ranging from accounting firms, creative agencies, and architecture firms all the way to individual construction job proposal templates. If there's a business that does it, there's likely a template waiting for you inside.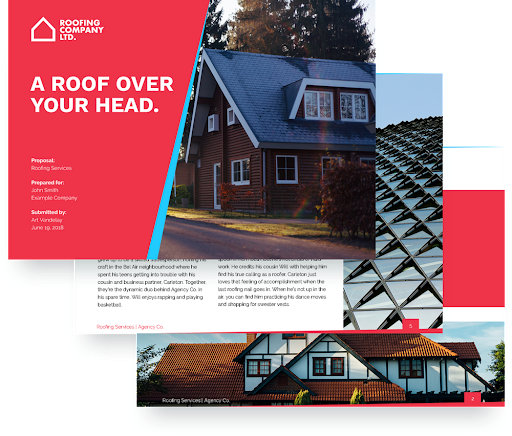 A winning business proposal has a greater chance of success and can be the difference between getting that client, making that sale, or missing out on that opportunity. To get your proposal noticed in a sea of competitors, you need to work at creating a document that is easy and enjoyable to read.
Our best tip? Keep it short and concise, but don't hesitate to include details in the most relevant sections.
Long story, short: create the proposal that you would be thrilled to get.