Add esignatures to your proposals
From our research into what makes proposals more likely to close, we found that the element that will boost your closing rate the most is adding esignatures. Proposals with esignatures (assigned to both an internal signee and a client) have a whopping 426% higher acceptance rate than proposals that don't include esignatures (and that only rely on the "Accept" button).
What's more, esignatures also improve the speed of closing, so be sure to add an esignature for yourself and your client for every single proposal you send. This quick action is so worth it.

If you want clients to only have to sign one doc with one software, you can add your contract into your proposal right before the signature section.
This proposal template has a 6-page contract (with the statement of work and master services agreement) included before the signature page:

By adding esignatures, you not only increase your closing rate, but you also consolidate your work and save time.
Sign your proposals before you send them
It's always great when you discover a super simple way to close more deals. We found that if you sign your proposals before you send them, you're likelihood of closing that project goes up by 36.8%.
So make sure to sign your proposal right away, so that when your client opens it, they already see your signature there, like this pre-signed example using our architecture proposal template.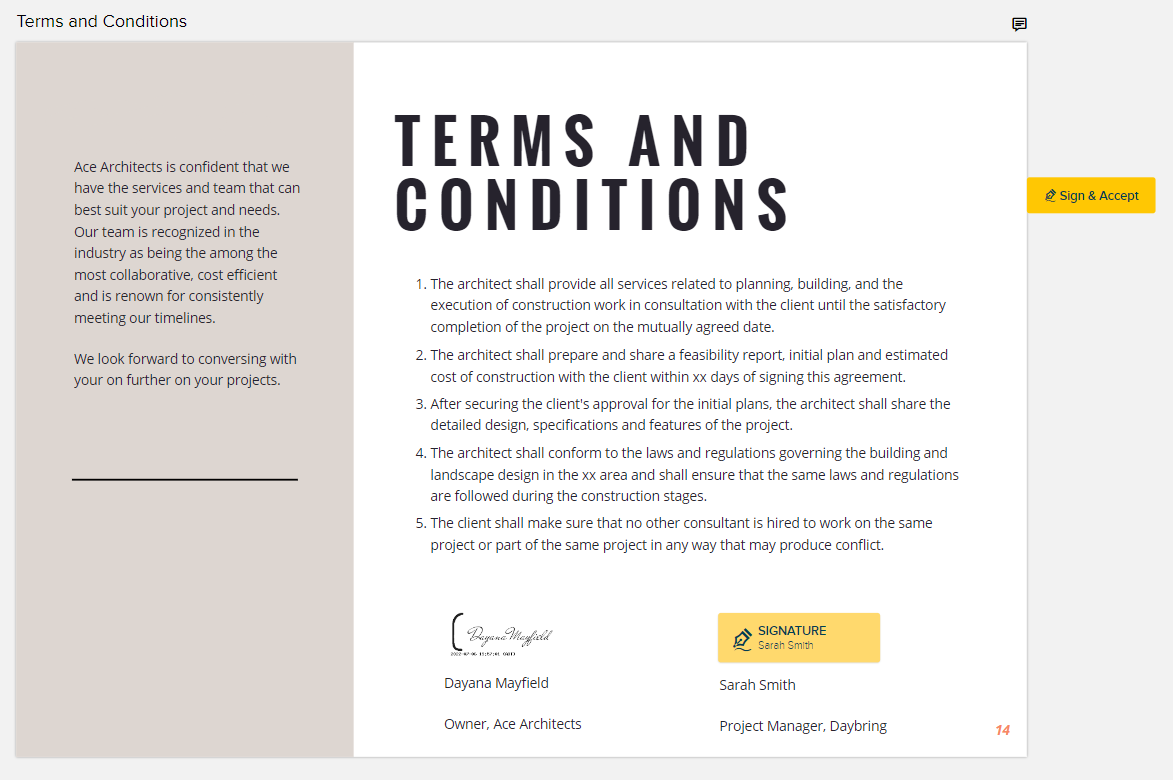 Proposify always delivers an email to all signers (including you) when a proposal is sent, so you'll immediately see the proposal in your email inbox and you can quickly sign it before your client opens it.
Allow clients to dynamically select pricing options
Dynamic pricing can improve closing rates. We found that proposals with fee tables have a 35.8% higher closing rate. A fee table could be a selection of different package options, with a description of what's included in each one. You could then allow the client to select the option they want with a click of a button.

Proposals with optional rows have an 18.5% higher close rate, so consider what add-ons you can include. For example, our website proposal template includes optional recommended services that the client can tack on to the project.
When you use Proposify, clients can select the quantities and options that fit their needs and the amount will automatically retally the project total. Then, they can sign off on the amount they want without having to ask you to edit the proposal.
Be willing to negotiate
Although dynamic pricing can increase closing rates and speeds, some negotiation is often necessary. Instead of discounting or lowering your price, you may need to adjust the project in order to fit within the client's expectations. Or, a client might decide that they love your proposal so much that they want additional work to the same project.
Whatever the reason, negotiations and revisions aren't a bad thing. On the contrary, they actually increase the likelihood that your proposal will close. This is a good listen on the topic of negotiation.
We found that proposals are more likely to close the more times they are revised—up to three revisions, after which the benefits start to drop off.

So whenever you send a proposal, be sure to set up automated follow-ups asking if they have any comments. And be prepared to adjust the proposal according to their request quickly so you can close the deal.
From adding esignatures to offering pricing options to revising deals ASAP, there are so many simple things you can do to dramatically improve your proposal batting average.
We have a lot more data-driven proposal tips to share, so be sure to download The 2022 State of Proposals.