Our customer is your client
Yes, Proposify is all about streamlining your proposal process, but our ultimate goal is to impress the heck out of your clients. We're in it to help you win it, so we do everything in our power to help you blow their minds with professional-looking proposals and an easy-to-approve sign-off process. When your clients are happy, we're happy.
Learn More
"Proposify greatly improves your chances to win deals, and adds massively to that 1st impression factor!"
Dean Williams, Skadoosh Technology Limited
Make it a done deal
When it comes to proposals, it's all about the sign-off. Proposify makes it easier and faster to get the green light and get down to business.
Learn More
"Since we started using Proposify, our jobs close rate has literally tripled!"
Steve Couch, BIM Designs, Inc
If time is money, Proposify saves you a bundle
It's a fact: proposals that get to clients faster, close faster. We streamline the entire proposal process so you can win the race against time when it comes to edging out the competition and closing your next deal.
Learn More
"I want my proposals to be concise, but informative. Simple, but stylish. Proposify lets me do all of this PLUS they have amazing templates for various projects."
Jeanie Croll, ON BRAND
Team collaboration leads to deal-closing celebrations
We totally believe in the mantra, 'teamwork makes the dream work'. From our content library to roles & permissions, Proposify makes it easier for your entire team to collaborate on the creation of winning proposals.
Learn More
"I love having Proposify as a centralized platform for our company to come together and track all of our deals."
Austin Schneider, Sport Dimensions
Design beautiful proposals, no experience necessary
Break free from the complexity of InDesign and the tyranny of other design tools. Our fully-loaded, easy-to-use editor lets you transform ho-hum proposals into drop-dead gorgeous deals.
Learn More
"The proposals are gorgeous, well-organized, easy to navigate, and have made the job of returning requests for proposals so much easier."
Lisa Lavelle, Catalina Tours
Integrations that power up your proposal process
Proposify integrates with some of the best business tools in the market so you can improve your efficiency and your close rate.
Learn More
"Proposify integrates with invoicing application for a seamless back office suite. Great for sending very professional proposals to clients."
Susan Rits, Susan Rits Design, LLC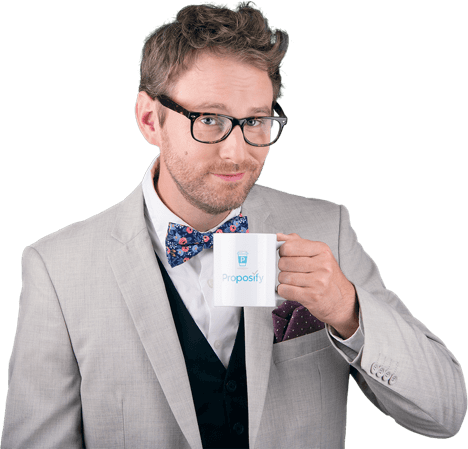 It's about more than just proposals.
It's about world domination.
Get a demo and start your team's total takeover.
I want a demo!