Salesforce Single Sign-On
More and more of our users have told us they need the ability to let their reps sign into Proposify through Single Sign-On, or SSO so we got to work on it!
Benefits of Single Sign-On:

Makes your systems more secure

Saves your IT team time and money from password resets.

Makes it easier for employees to sign into one platform and not manage multiple logins.

Increases productivity, even when working remotely.
SOON: We're testing this feature with some of our customers who use Salesforce and it will be part of our Business level plan. Talk to your CSM if you'd like to test out SSO with Salesforce.
Coming in February:


A new way of sharing your documents
Last month we told you about the new share experience we've been working on. The benefits of the new share experience means:


Finding out if your proposal is being forwarded and who viewed it

Using the CC and BCC function just like in regular email.

Improved email delivery with a standardized email design and other backend changes

Creating a sense of urgency to close by setting an expiry date on the proposal (more on that further down!)

Easily pasting addresses and adding new contacts from this page.
To test this new functionality, we rolled it out to certain accounts and gained some valuable insight into how users interacted with it.
Based on that feedback, we re-incorporated email templates so you can send your emails faster and reduce the risk of errors. If you have more than one email template in your account, you can choose the desired template from the dropdown: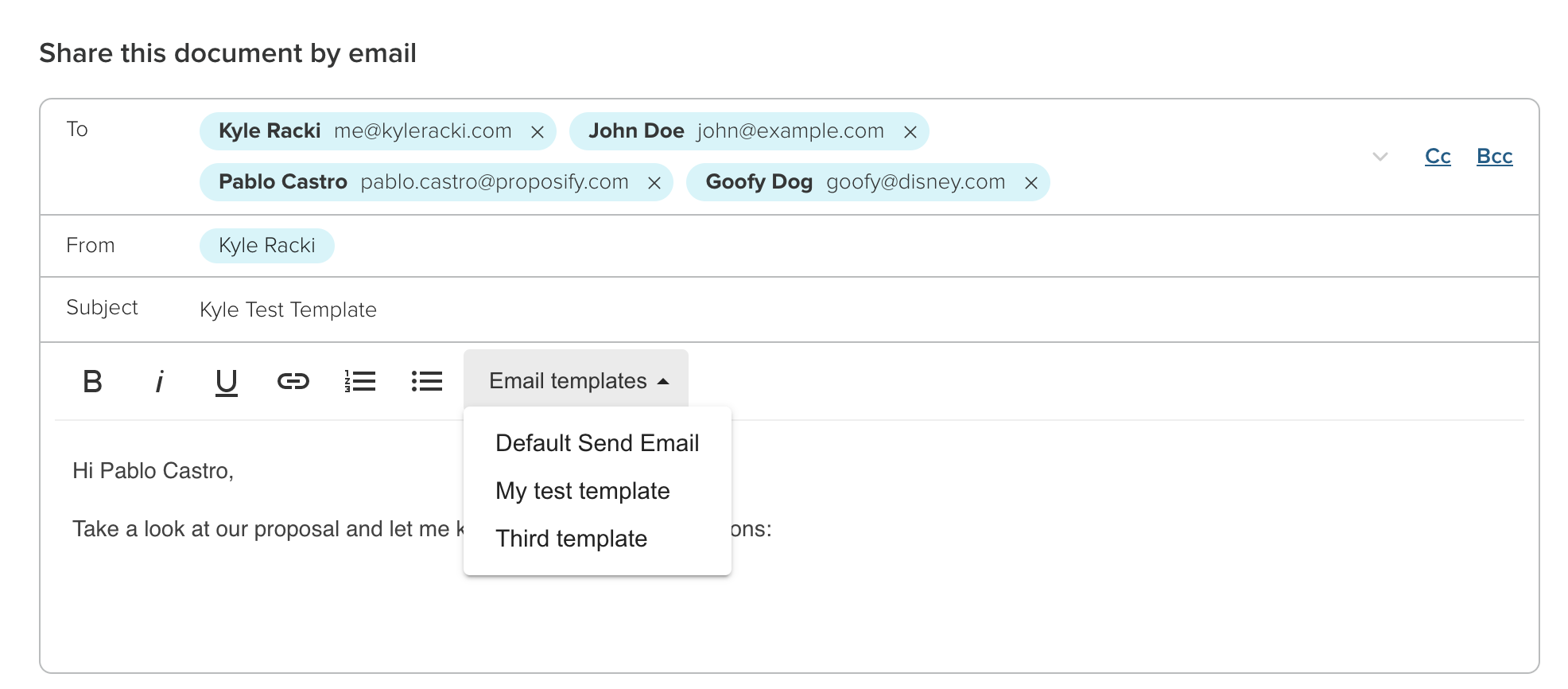 We have a few things we're still working on before we are ready to launch to all accounts in February:

Permissions: We're currently working on adding permissions to this page so we can roll it out to customers on our Business plan.

Translations: We're adding the ability to translate the "View Document" button in the email.

Removing email custom design: We believe that the priority here should be to improve deliverability of your proposal emails, so limiting the design customization helps achieve that. Soon all emails that are automatically sent from our system will use a standard design.

Improving how we track forwarding: We started asking proposal recipients to enter their email when viewing a document so we could track views, but it's added some complexity to the signing workflow. We are working on implementing a smarter way to track views without adding work for you, the user.
Watch for the new share feature to roll out completely in February and in the meantime you can check out the Knowledge Base article about it.

Drive urgency in deals and automatically archive documents with an expiration date.
We've gotten a ton of requests over the years to allow you to enter a date and automatically expire documents. This can help drive urgency in a sales cycle and also remove old documents from your pipeline.
This feature is in private beta. If you have access to the new share experience, we can turn this new feature on for select users. If it's turned on in your account, you'll see an "auto expire" button on the new share page.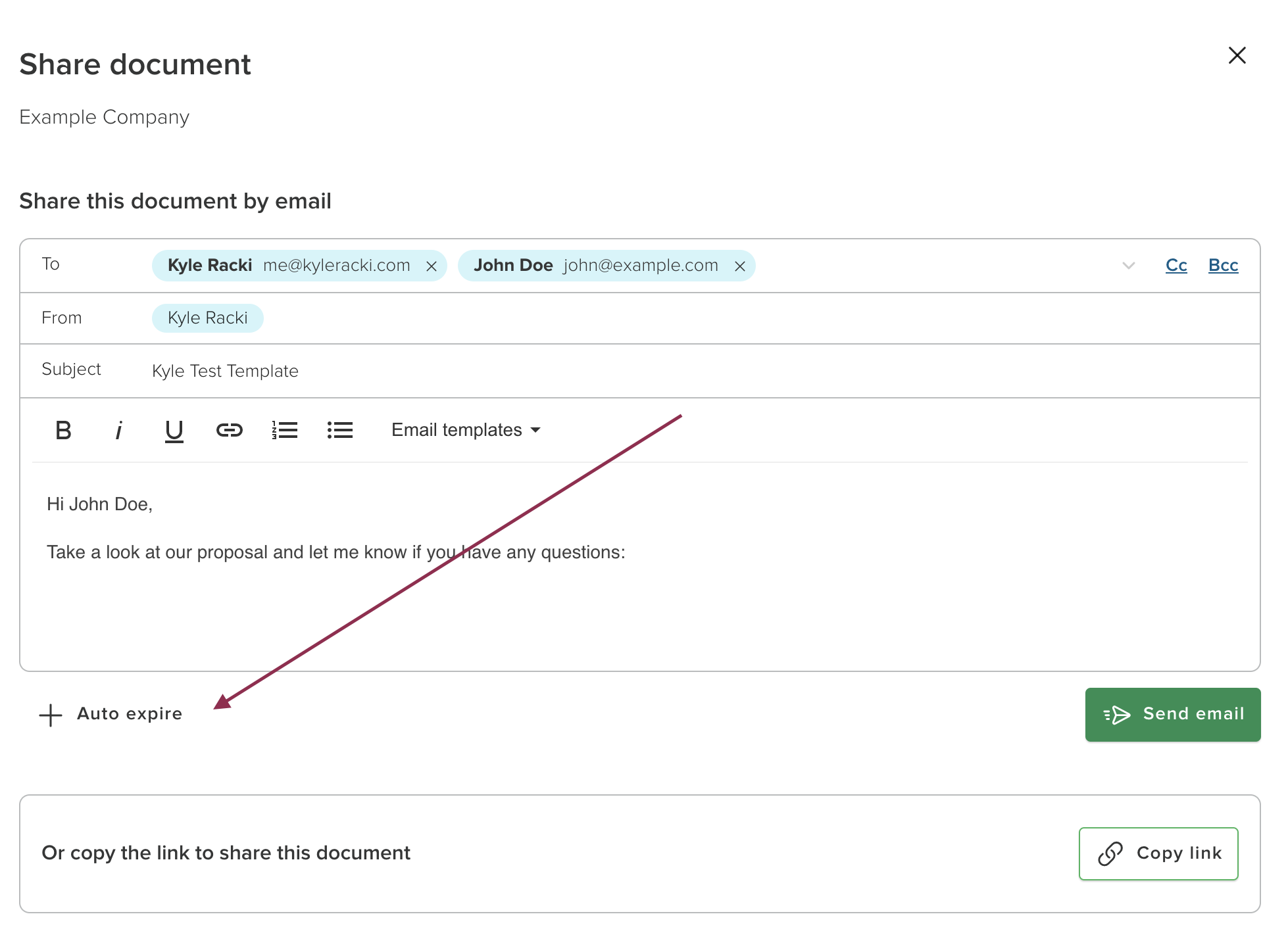 When you click it, add the amount of days until you want the document to expire and it will auto archive, afterwhich recipients cannot view or sign the document.
Coming down the product pipe in Q2:
Editor 3 beta rollout
We're working towards an end of Q1/early Q2 beta release of Editor 3. EXCITING!
Editor 3 is a full redesign from the ground up, and is being built with stability and ease-of-use at the forefront.
The beta release will allow for complete end-to-end document workflow and beta users will be able to create, send, and share simple documents and get sign-off.
In the beginning, the functionality will be somewhat limited as we build everything out, but it will be useful for text-heavy documents like contracts and agreements. As we progress with developing it over this year, Editor 3 will eventually be as full-featured as the current editor (and even better!).
You'll be able to use both Editor 2 and Editor 3 documents within your account so you can try out the new editor while still being able to edit and manage your existing Editor 2 documents.
Salesforce Custom Objects
Many businesses would love to use Proposify for their document and e-signature needs, but since they use custom objects in Salesforce to manage their pipeline, Proposify is a no-go.
Our team is hard at work to enable custom objects and fields by the end of March.

Stay tuned for more updates!

And before you go, please enjoy the latest edition of SalesLife, "When Your Sales Manager is Hands-On with Coaching"

https://www.youtube.com/watch?v=e3zsFstSva8

Want to see more hole-in-ones like this? Be sure to Like and Subscribe!