Everything you need to know about e-signing PDFs
Got questions about signing PDFs? We've got answers.
Read these frequently asked questions to better understand which of the below methods is the best fit for your signing use case.

How do electronic signatures work? Electronic signatures represent the intent and action of signing a document. This can mean checking a box, drawing or typing your name, or drawing or typing your initials.



Are electronic signatures on PDFs legally binding? Just drawing your signature digitally might not be enough in the event of arbitration. If you want to ensure that your signatures will be legally binding, you should use electronic signature software that sends a unique link via a signature request email to each signer's inbox so that digital signing activity can be recorded and proven.



What is the best way to collect an electronic signature on a PDF? Adobe Acrobat is one of the most popular free ways to sign PDFs online, but it's not the best fit for business purposes. It lacks unique links (described above). Plus, not everyone has Adobe Acrobat downloaded on their computer. Our recommendation is to use an e-signature solution that allows clients to securely sign online without having to download special software (see Methods 3 and 4). But if you think the risk of arbitration is low and you're not too worried about it, go ahead and use Method 1 or 2.
Now on to the signing methods!
We present pros and cons for each method to help you decide which one is right for you.
Method 1: Add an e-signature to a PDF document with Adobe Acrobat
Adobe Acrobat is a popular free tool for viewing and editing PDFs. You can fill in form fields, add signatures, highlight text, and more.
Pros and cons of this method
Adobe Acrobat offers a variety of ways to sign documents digitally, including typing, drawing, and uploading your signature.
However, because it requires the use of their desktop application and doesn't offer email validation, it's not the best option. For an improved client experience and legally binding signatures, use a signature tool that allows clients to review and sign documents in a few easy clicks with their web browser.
How to add an e-signature
Here are the steps to follow to sign a PDF with Adobe Acrobat.
Step 1. Open a document with Adobe Acrobat.
Make sure you have Adobe Acrobat downloaded. If it's not your default PDF reader, you'll need to right-click and select Open with >> Adobe Acrobat to launch the program.
Click on "Fill and sign." Then click "Add signature."
Step 2. Type, draw, or upload your signature
With Adobe Acrobat there are three ways to add a signature. You can type your name, draw your signature, or upload a picture of your signature that you made with Paint or some other program.

Step 3. Drag and drop your signature into the correct field.
Next, place your signature where you want to go and resize it if needed.

Step 4. Save and send the PDF.
Then, click the save icon to save the signed PDF. If you need someone else to sign the document, you'll need to send the PDF to them and explain to them how to use Adobe Acrobat Fill and Sign. For a more streamlined, professional approach try Method 3.

Method 2: Add an e-signature to a PDF document with Microsoft Edge
With this method, you'll use a popular and free website browser application to sign your PDF.
Pros and cons of this method
You can doodle your signature in a pinch. While this method is free and easy, it probably won't hold up in a court of law. You'll be able to track when a document was altered, but there's no unique link sent to the signer's email, which is legally binding. (For a fail-safe option, see Method 3 below.)
How to add an e-signature
Use these easy steps to add your hand-drawn signature to a PDF document:
Step 1. Open up your PDF with Microsoft Edge.
If you use Windows, your computer might automatically open up PDFs in Edge. If not, you can right-click on the PDF file and choose Open with >> Edge.
Step 2. Select the draw tool in the top toolbar that appears in the Edge browser when viewing a PDF.
For a more professional-looking signature, choose the color black and set the thickness to as thin as possible.

Step 3. Draw your signature.
If you have a touchscreen device, it will be easier to make your signature look realistic. Otherwise, you'll have to do your best with your mouse or trackpad.

Step 4. Save the signed PDF document.
If you want to save the changes to the original PDF file, you can simply click the save icon. But if you want to save the signed version as a separate file, then click the print icon and select Microsoft Print to PDF.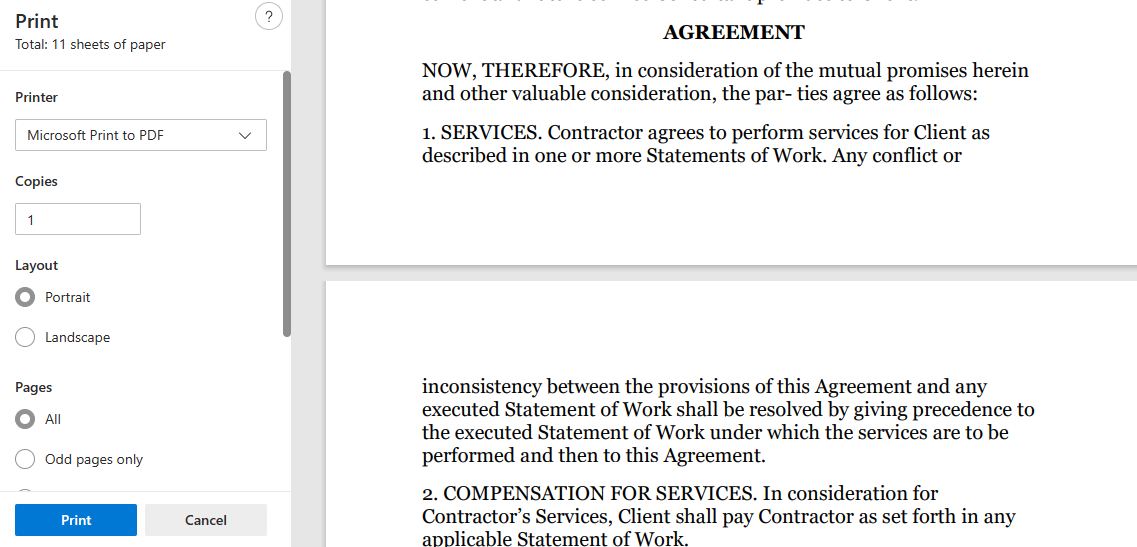 Then, you can hit print and give the signed version a new name and choose the correct folder to save it under.
Method 3: Add an e-signature to a PDF document with Proposify
Tired of wrangling PDFs? Proposify's proposal software offers a better way to design and sign proposals.
Pros and cons of this method
If your sales team is sending proposals in a PDF format to prospective clients, you've probably dealt with some or all of these issues:

Different versions of PDFs spread all over the place

Challenges when designing the PDF proposals

Difficulties making edits per client requests

Lack of visibility into client activity (can't tell if they've viewed the proposal)
With Proposify, you can solve all of these issues. You get one dedicated platform for managing proposal templates, sending and tracking proposals, and handling client revision requests.
And, because signatures are requested with a unique link sent to the signers' email inbox, all signatures collected are legally binding.
While this method is great for sales teams, it's not a fit for most other use cases. If you're not sending business proposals but want legally binding signatures, consider Method 4 below.

How to add an e-signature
Follow these steps to request a signature on a digital proposal.
Step 1. Start off with a template.
Save time by choosing one of our 75+ proposal and contract templates. You can find one that matches your industry, or choose the one with your favorite design.

Step 2. Customize the design and text of the proposal
Make the template your own by adding your unique brand style, company information, service details, credentials, etc.
Depending on your industry and the template that you've chosen, there will be different things that you should update.
For example, if you're an architect using our architecture proposal template, you should make sure to update this page with a sample of your own work: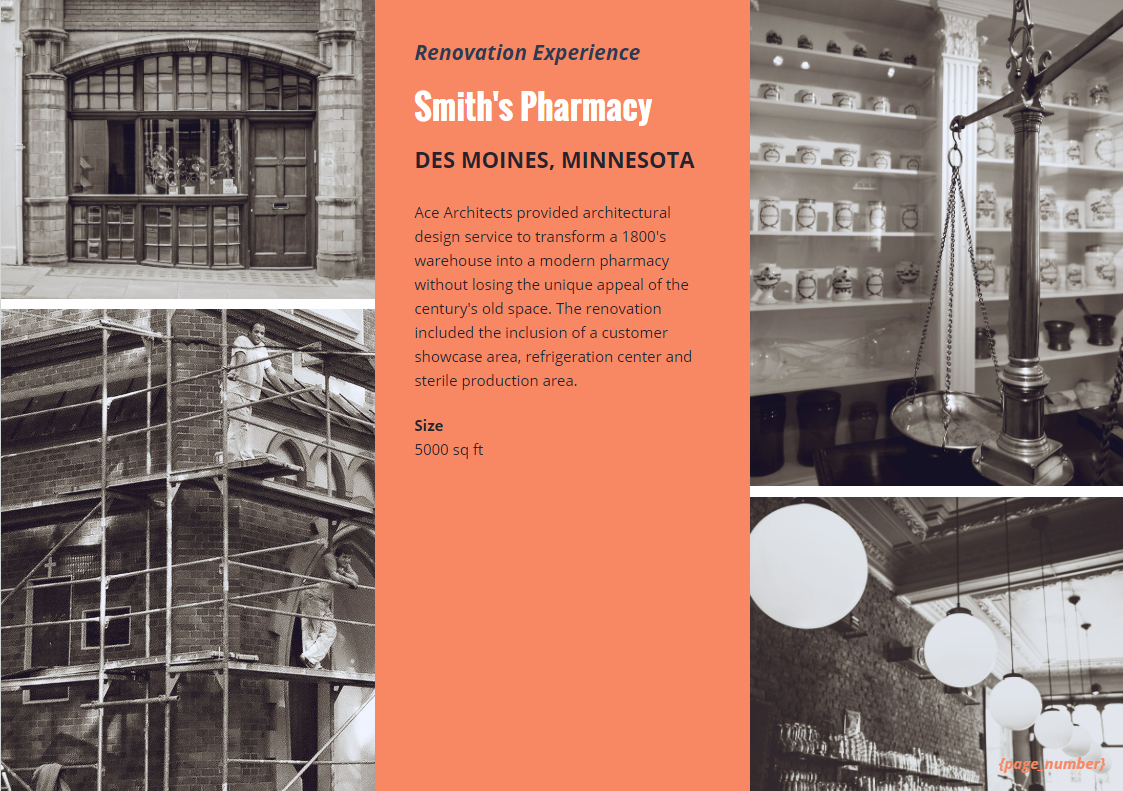 Step 3. Add client details and signature blocks.
After you've customized the proposal for your business, it's time to cater to your client. Add the client company name, signer name, and signature fields.

Step 4. Send the proposal to the client
When the proposal is finished, click on the "Share" button. Then write the email that will accompany your proposal.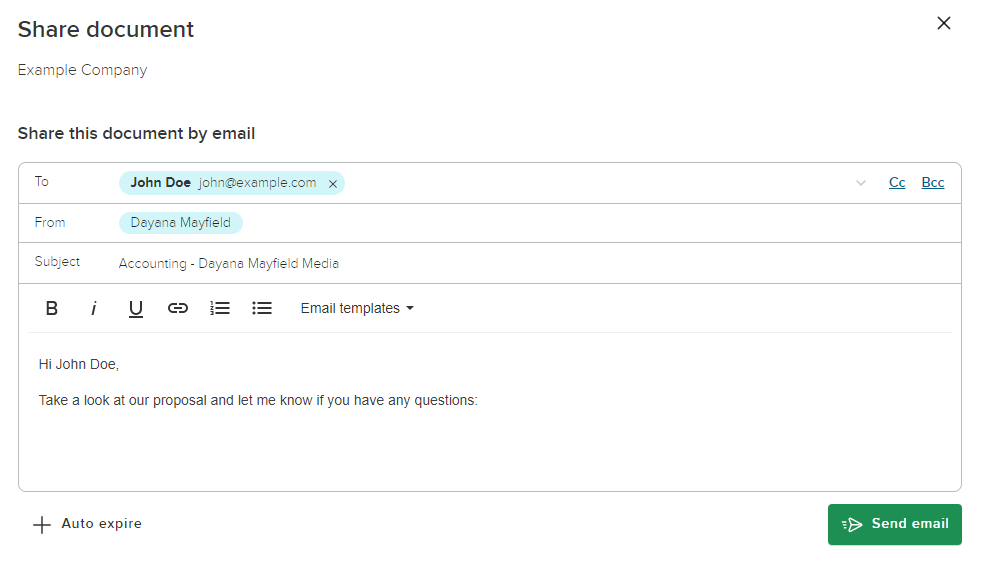 But as a salesperson, your work doesn't end here, of course. Use Proposify to set up automated email reminders, track client activity, benchmark your closing rates, and update proposal terms based on client revision requests.
Method 4: Add an e-signature to a PDF document with Dropbox Sign
Dropbox Sign is a reasonably priced tool for legally binding online signatures. You can use it for any sort of legal agreement.
Pros and cons of this method
Dropbox Sign makes it easy to upload Word documents and PDFs and get them signed. You can also set up contract templates in your account.
Like Proposify, Dropbox Sign offers legally binding electronic signatures. The difference is that this platform is designed for signing basic written contracts, whereas with Proposify you can create beautifully designed and on-brand proposals as well as standard contracts. For this reason, Dropbox Sign can be used for any purpose while Proposify is better for sales teams.
How to add an e-signature
Here's how to add a signature block to your PDF with Dropbox Sign.
Step 1. Upload your PDF.
Start by logging into your account and clicking on "Sign documents."
Upload the PDF document you want to sign. If you have multiple documents for the same signer, you can upload all of them and arrange them in order.

Step 2. Add your signers.
Input the name and email addresses of your signers. You can add as many people as you like, or click the "I'm the only signer button" if you just need to sign something yourself.

Step 3. Input all necessary signature fields.
Next, add the required signature fields and form fields for each signer. You might want to add fields for names, addresses, or other important data.

If there are any fields that you need to sign, click the "Me" setting and drag and drop the signatures where you need them.
Step 4. Send the document for signature.
The final step is to send the signature request email. After you've added all of the required fields, hit the "Next" button. Write the subject line and text of the email and hit "Send."

Tips for requesting e-signatures on PDFs
Business owners and sales teams need to do everything in their power to ensure that prospects will say yes and sign the contract. You don't want a bad online experience getting between you and a closed deal.
Here are five smart tips to help you take your e-signature workflow to the next level:

Use signature software for a better client experience - With the right software, all clients have to do is open an email, review your document, and sign in with a few clicks. You don't want to make your clients go through hoops and have to download programs just to sign your contract.

Create and reuse templates for faster processes - Create your own proposal and contract templates so it's easier to send documents. Use a platform that allows you to design easily, instead of hassling with PDF programs.

Sign before you send - Always sign your fields before you send the document to your client. Doing so makes your proposal 5X times more likely to close.

Set up automated reminders - Prescheduled reminders make your proposal 50% more likely to close so make sure to use this smart feature.

Automatically store all signed contracts - Make sure to use a platform that automatically saves all of your signed documents so you never have to worry about losing them.
A better client experience and smoother internal operations can have a big impact on your sales, so make sure you're signing process is up to par.
Streamline your proposal process and close more deals with Proposify.