Transform your sales team into a closing machine.
Get the business proposal software that streamlines the creation of quotes, contracts, and other sales documents.
A revolutionary new way to manage your sales process.
Running a sales team? Until now, managing proposals has been a tedious, painful chore. Proposify changes all that. We're revolutionizing the entire process, from creation to close and every deal-closing moment in between. We're online business proposal software that gives your sales team the competitive edge.
Save time, save deals
Put proposals in front of your sales leads quickly before they go cold. Proposify makes it easier to create beautiful proposals faster, so your deals stay hot.
Organize Your Team
Transform your proposal process from chaos to collaboration. With Proposify, your team can quickly access and collaborate on proposal content while you manage their activity with roles and permissions, commenting, and tracking through version history.
Track Deals
No more wondering if the client received your proposal, if they read it, or if they even signed it. Proposify notifies you every time your client interacts with your proposal, from opening the email to closing the deal. Stay on top of sales and your success.
Clients so impressed, they have to say yes
Your clients will be awestruck when they view your proposal in an interactive, mobile-friendly, fully white-labelled experience that puts your company in the spotlight. Proposify makes you look like a rockstar, turning your clients into number one fans.
Learn More
Get it signed 60% faster

Once you've knocked the socks off your client, make it easy for them to approve your proposal on the spot with our online signature tool. They can sign it anytime, from any device.

Get paid right away

Our online payment integration lets you request a payment from your client directly in the proposal so you can get paid as soon as they sign off.
Create proposals faster. Period.
When it comes to delivering a proposal for a potentially big deal, you can't afford any delays. Proposify makes creating proposals fast and efficient, bringing control, consistency, collaboration, and calm to your whole process.
Learn More
Get inspired by our ready-to-rock proposal templates
Pick from our selection of professionally written and designed templates to kick-start your proposal process. View our template gallery.
No more hunting for past content
Organize all your case studies, fees, sections, and bios into one library so snapping together proposals takes minutes and everyone on your team has access no matter where they are. You can tag, group, and search content to make creating proposals quick and simple.
Say goodbye to find-and-replace
Our variables feature automatically swaps out your client's name and other specifics relevant to each proposal so you never need to worry about accidentally including the wrong client name! Plus, custom fields saves you time from manually entering all your proposal particulars - just fill out the details and it populates your proposal.
Connect Proposify with all your favourite apps
When it comes to winning the battle for better business, you need a few good co-conspirators. Proposify integrates with some of the top business apps so you can improve your efficiency by syncing your CRM, invoicing, and project management tools. Import contacts, link deals, create projects, and generate invoices.
"Once we started using Proposify, it made our workflows so much simpler. There was just nothing else out there like it that allowed us to build something branded that we could update within minutes to send to a client." - Alex Hemker, Founder at Buhv Designs
$7,230,987

won by more than
6,000 businesses worldwide in the last 30 days.
Keiran Murphy
@proposify we have been using the product for nearly 2 years @cashfullstop and love it. Keep up the great work.
Patrick Neve
Ha! The @proposify team are ridiculous! EVERY time I login they've added a new feature. Check out the new "zoom" feature for small devices
Collin Belt
I can literally quantify 70+ hours saved by switching to @proposify for contracts. Lifesaver for small businesses.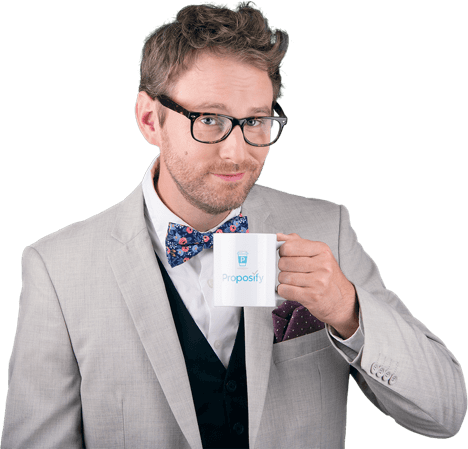 Your Mission? Close the Deal. Your Secret Weapon? Proposify.
Try Proposify free for 14 days. No credit card required. Plans start at $25/month.
SIGN UP FOR FREE